In essence, we are combining the historical and legendary fishing programs pioneered by Collin Schadrech, James Britton, and Ray Makowichuk.
Fishing the Bulkley gives you a deep appreciation of the Steelhead fishing experience that British Columbia has to offer. Believe it or not, there are still places like this left in the world. Floating the Bulkley in our drift boats is a Steelhead fishing BC adventure into nature's art gallery, with one breathtaking masterpiece followed by another. The backdrop for a trip on the Bulkley River includes towering peaks, hanging glaciers and rugged canyons. Spectacular birch, aspen and cottonwood trees create a symphony of color along the Steelhead fishing BC river's banks.
Check out the three exciting packages that Frontiers Farwest Lodge offers. The first package is a four-day float trip down the Bulkley River with a guided fishing host that will have extensive experience of the British Columbia waters. The next package is our six day Canyon trip. Our guest will enjoy an all-inclusive BC steelhead fishing experience with food, drinks and lodging included. Our last trip is the seven-day lodge trip. Each day our guests will experience a new fishing adventure at one of our popular Bulkley Steelhead spots.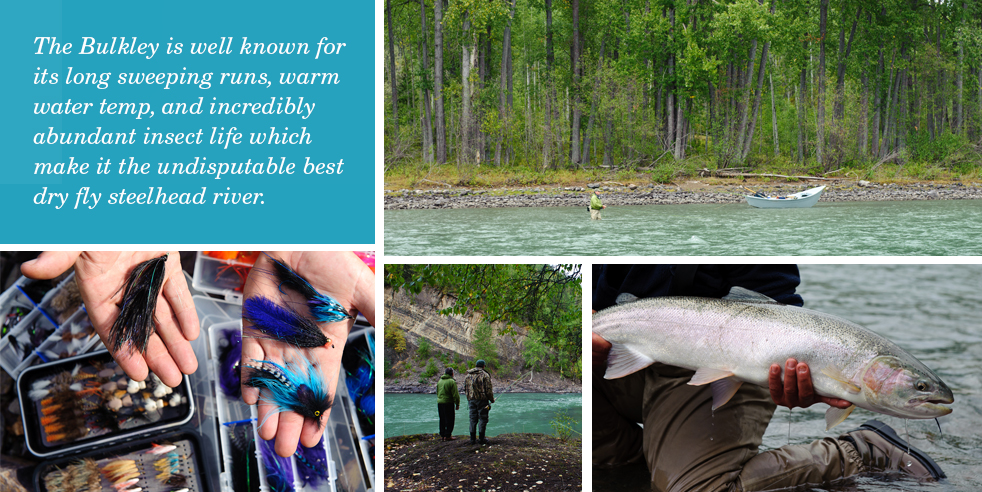 Four-day Float Trip
Frontier Farwest is offering four-day float trips down the Bulkley River for the best British Columbia steelhead fishing! Without question, Frontier Farwest's guide's and client's favorite floats, have been on the most remote and inaccessible stretches of the Bulkley. This is why FFW is proud to offer fishermen a new package allowing access to the only two overnight camps available to anglers on the entire Bulkley River!
These four-day float trips include some of the best and most exciting British Columbia steelhead fishing, and other fishing is designed specifically for anglers choosing to leave all the creature comforts of the lodge behind, and experience a true British Columbian wilderness Steelhead experience.
You can fish as many hours a day as you like. The four-day trip consists of floating two separate canyons on the Bulkley River. These are each two days (1 night) float trips. In between the float trips, we will put you up at a Smithers hotel. This allows you to regroup after the first two days, have a hot shower and clean clothes. The next morning you will be off at first light for your next two-day adventure.
The Bulkley is well known for its long sweeping runs, warm water temp, and incredibly abundant insect life which make it the undisputable best dry fly steelhead river to go on British Columbia steelhead fishing trips. These overnight float trips will put you on some of the very best water the Bulkley has to offer, and you will have it all by yourself
Our float trips are designed to provide you with a quality experience from start to finish while salmon fishing British Columbia waters.
We use state of the art fiberglass drift boats & rafts, canvas wall tents, and camp equipment. The meals provided on the river are delicious, hearty and filling. The camps have been strategically located on magnificent stretches of water, which give anglers the chance to fish as late into the evening or as early as they care to start in the morning. Your fishing will never be cut off like at many lodges.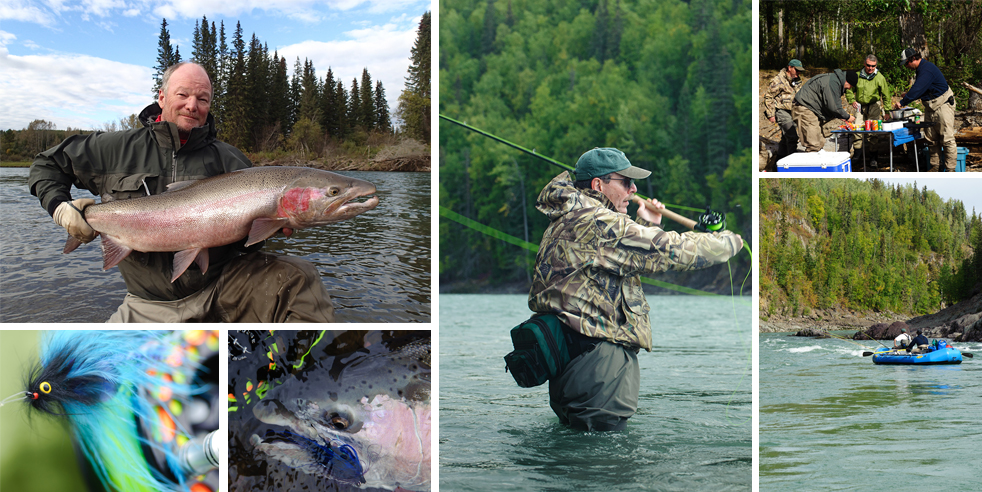 Six-day Canyon trip
Brand new for 2012, this is upon request for the cult following for the Bulkley canyons. Our guests who have enjoyed the four days fly fishing British Columbia trips in the past several years have insisted we offer a six-day trip so they can have their fill of the water they love most.
This trip is done via jet boat that allows you to stay two nights and three days at each camp. Due to three rods per day allocations this trip has a maximum of 3 anglers at a time. The Bulkley Canyon trip is a wild and exciting fly fishing British Columbia experience, and for hardcore anglers who are searching for long days of fishing, some of the best runs on the Bulkley look no further.
If you don't want to be on anyone's schedule, if you want to stay out on the water longer than any other fisherman then it's time to give this trip a chance. Our camps are very comfortable, and we put a lot of effort into the food as we know how hungry one gets after a long day of steelhead fishing. The trips start on Fridays where you will fish your way into camp and spend the night. We have two camps, one in upper canyon and one in the lower canyon, and they will become your base for three days of fishing each. If the river blows out, you are not stuck in some fly out river that you can't fish
Upon a canyon blowout, you simply head back to town and regroup. If the upper Bulkley and the Morice are in shape, you will stay at a hotel and do day trips with your guide. Would this be a real bummer? Yes, it would, but at least you would be on the water that gives you the best possible chance to catch a steelhead while fly fishing British Columbia waters.
Seven-day lodge trip
Our new steelhead fishing British Columbia fishing program is based around the concept that the modern day angler wants variety in their lodge experience. Our main objective is to show our guests a true BC steelhead adventure, one they can return to year after year and still fish new water each and every time they come. The rotating beat system is not one we will ever have to implement for our guests or guides.
In essence, we are combining the historical and legendary fishing programs pioneered by Collin Schadrech, James Britton, and Ray Makowichuk. We are aiming to give our guests a taste of all three of these magnificent steelhead fishing British Columbia experiences over one week in the Bulkley Valley.
Is it too much to tackle in one week? With carefully planned logistics, we will maximize time spent on the water and have less drive time (both boat and vehicle than before). A week with us will leave forever, imprinted images of what a wilderness experience is supposed to be. With attention to details, remote comfort, and a river that continuously challenges and rewards its occupants we have found the ultimate fishing experience. One that is just as rewarding for the beginner as it is for the ardent veteran.
Very few people have had the opportunity to see the Morice and the Bulkley through the eyes of the pioneers that first started steelhead fishing British Columbia on the fly. However, we have been fortunate to do just that.
Spectacular birch, aspen and cottonwood trees create a symphony of color along the Steelhead fishing BC river's banks.