This article previously ran in The Contemporary Sportsman Magazine.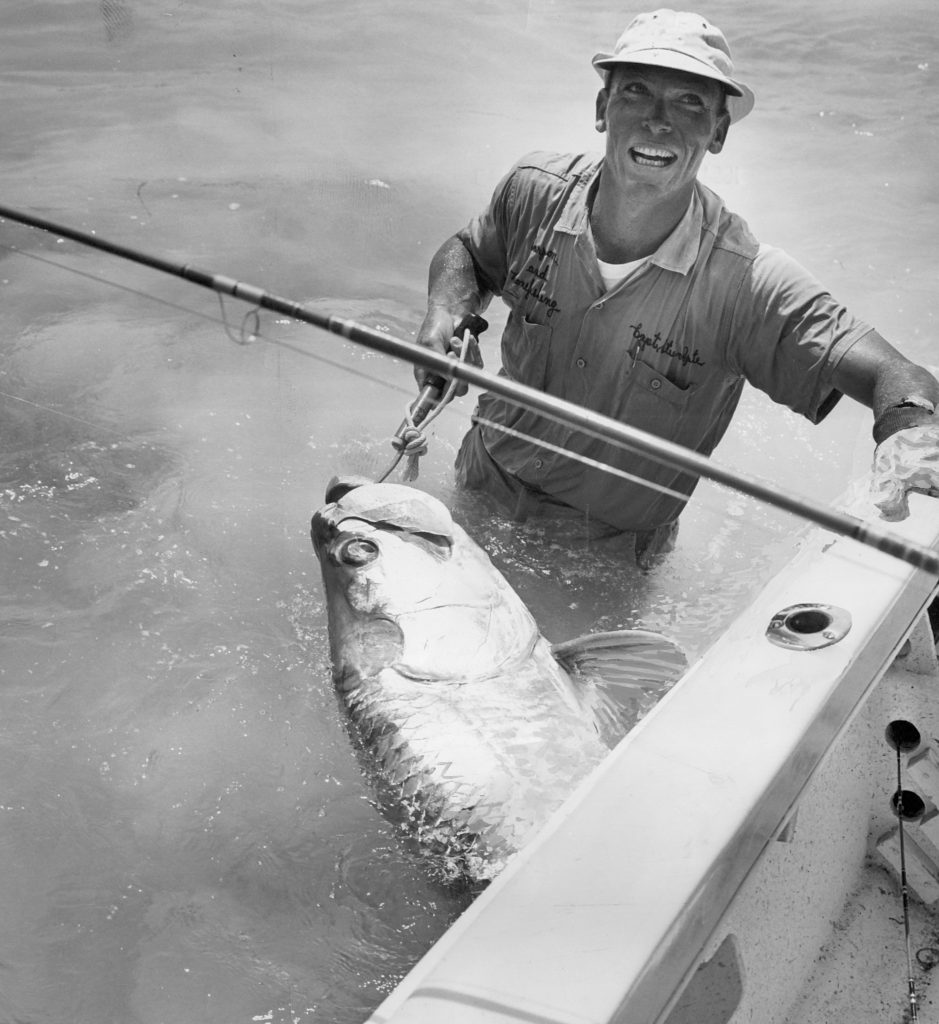 In early October, 2009, we met an old friend, Stu Apte, at his house in Tavernier, Florida. We were there to interview Stu about his newest book "Of Wind and Tides". We hadn't been to his house before, but as we turned onto Plantation Drive, it was easy to determine which house was his. We saw two Ranger shallow water skiffs, a large RV with Stu's picture and name on both sides and a long, wooden sign over a lower level door on the house that read "Tarpon Alley".
Stu met us outside and explained that things were kind of "out of kilter". Stu and his wife, Jeannine, had temporarily moved their living quarters to the lower level of their piling house because of their dedication to their dog, Ginger. Ginger had major surgery that didn't permit her to climb stairs. They didn't care about the uncomfortable and cramped living conditions as long as Ginger could recuperate fully.
So as not to disturb Ginger, we went upstairs with Stu into his main home and it was like walking into a fishing museum…pictures, awards, trophies, books, personal memorabilia and more. We were in awe with the amount of fishing history just in his office. His hallway was lined with artwork and photographs, large, impressive awards in his living room, even a lampshade was hand painted with his Stu Apte Tarpon fly patterns.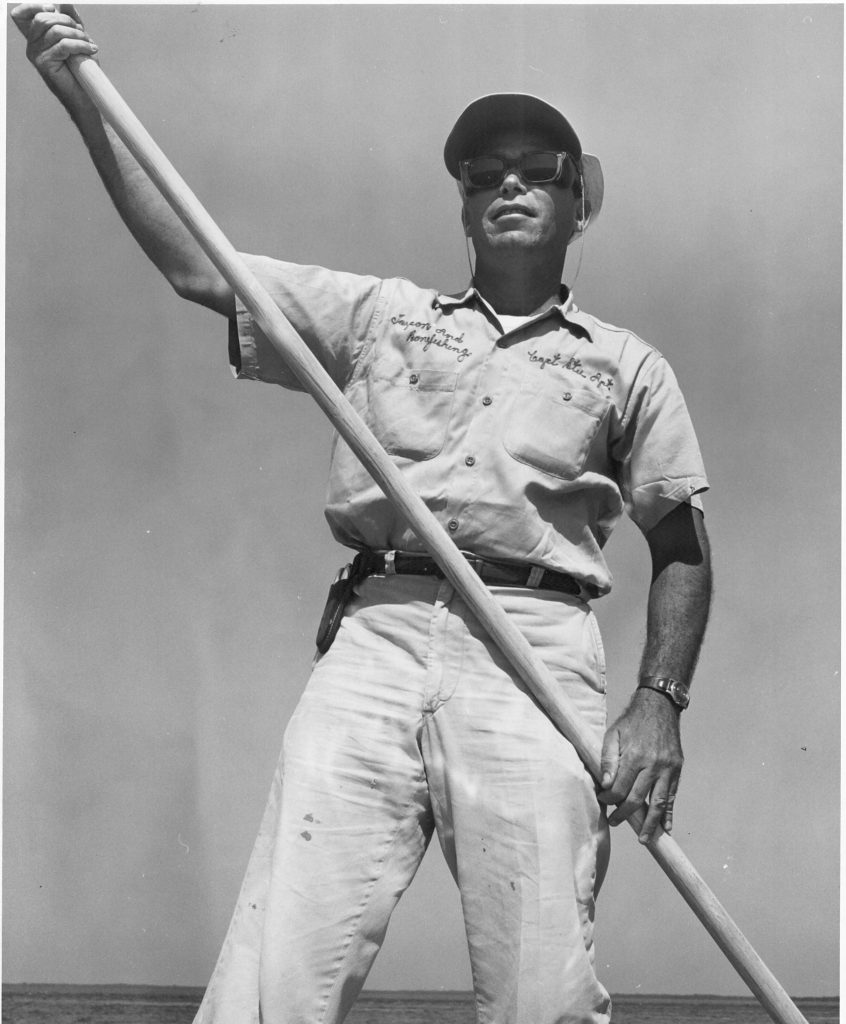 As the three of us sat at the dining room table, we were reminiscing about the last interview we did together. It was in 1992 when Joyce had a fly-fishing radio show and interviewed him about light tackle fish-fighting techniques. Seventeen years later – another interview – about Stu's book. He graciously and openly shared details and stories of his professional and personal life with great honesty. We now share them with you.
J: I do have to ask how you came up with the title of your new book "Of Wind and Tides?"
S: I had a different title to start with. I originally had it titled "Born to Fish" but it's not a fishing book. It's really a book of my life. It's early life and thereafter; so, my life had always been fishing but later on it was also flying. "Of Wind" which is the flying; "Of Tides" which is the fishing. You want titles to be fairly short, you want it to be something people would say "this is interesting, why?"
J: Has the book been well received?
S: Yes, very well received.
M: This was a great book, too – "Stu Apte's Fishing in the Florida Keys and Flamingo" printed in 1976. When I first started fishing the Keys I used this.
S: Let me tell you what. When I published that in 1976 every guide at Bud 'n Mary's bought it. Jack Kurtz owned Bud 'n Mary's at the time. He called me when they got them in over there to sell and he said "Stu, every single guide bought the book." I asked a couple of them that I was kind of friendly with and they said "Oh yeah, we wanted to see what secrets you gave away." That's not what they wanted to see, they wanted to learn something.
J: In your office, we saw pictures of some of the guys you used to fish with and I know you fished with a lot of famous people and a lot of well-known guides, is there anybody that you didn't get to fish with on your boat that perhaps you would have liked to?
S: Yep. I was supposed to do an American Sportsman show with John Wayne, fly fishing for tarpon. Unfortunately I didn't get to, for a lot of reasons, but, John came down with lung cancer back in the late 1970s, early 1980s, and the show got cancelled out. I never fished with Bing Crosby although I had lunch with him on the eastern shore of Maryland in the town of Easton when they were doing a Bing and Phil Harris Goose Hunting show. I was hunting in the town of Oxford when I ran into some of the crew that I knew because I field-hosted a lot of the shows. They said "what are you doing for lunch today?" I said, "Nothing, I got through with my hunting this morning." They said "Well, why don't you drive up to Easton and have lunch with us. We have Bing Crosby and Phil Harris up there, they've been doing a show." A funny thing they told me about Phil was when he was in a pit blind and the hunt was over in the morning, the first thing that came out of the blind was his bottle of Black Jack Daniels.
Curt Gowdy told a very funny story about the first time he ever met Phil Harris. They were going to be doing a duck hunting show, Curt and Phil Harris in Stuttgart, Arkansas (a great flyway for ducks). Anyway, Phil was downstairs in the hotel restaurant when Curt came down for breakfast. Curt said Phil motioned to him and said "Curt, come sit over here. Mr. Gowdy." "You are Phil Harris?"
"Yeah, I am. Sit down over here. I already ordered for you". Curt said "OK." Then Phil starts kind of talking to himself and says "Yeah, Jack, we're going to do really good today, we're going to get these ducks, and we're going to get the right ones." Curt interrupted him and said, "Mr. Harris, excuse me, let's not mess up on this, my name is really Curt not Jack." Phil said "I wasn't talking to you, I was talking to my friend here, Jack Daniels." True story. Curt tells it really great.
J: So, you hunted as well as fished.
S: Oh yeah, I was an upland bird hunter and waterfowl shooter and had never shot an animal. When I used to spend a lot of time in Montana, back in the late '70s and early '80s, I'd go hunting with my friends out there but I'd take a camera and take pictures. I was doing a bit of writing on hunting and I guess it was 1984 when we built the place out there and I became a resident. Oh, I know what happened, it was 1985 we sold the place here in the Keys because my wife decided she didn't like the Keys anymore. We added onto our place out there, which was beautiful (a picture is in the book). Anyway, she said, "why don't you quit begging game from your friends and go out and shoot your own." She kind of wrangled me into it and I did. My neighbor, I only had one neighbor out there and he was about a half mile away, was a great hunter, a younger guy, and he took me looking for deer. We'd leave in the black dark and we'd be in position when it got legal hunting time. When I shot my first deer it was in the snow and 10 to 12 degrees below. My wife had the head mounted for me – it was a big 5×5 white-tailed buck. That was my first. Thereafter, I became a killer. I still do a little animal hunting. We love to eat antelope. That's the best game there is when you shoot them on ranches where they've been eating grain. If you like to eat lamb chops or you like to eat veal, antelope is like a combination of lamb and veal.
M: Getting back to John Wayne, I had no idea he was a fly fisherman.
S: Oh yeah, Bing Crosby was too, but Bing Crosby was not the quality fly fisherman that John Wayne was. Bing would do a little stream fishing for trout. But I stayed in Baja, Mexico at a place that John Wayne used to own. It became a kind of a lodge, called Leonardo (the Lion's Den) which is what John Wayne named it when he owned the property. I did three TV shoots down there in one week when I was hosting the ESPN "Beyond the Fly" TV show. We did 13 shows, and a few more after that.
M: I remember a lot of those early-on TV shows. One stands out in my mind where you had Flip Pallot as a guide and he was standing on top of the cowling of an old Evinrude poling you.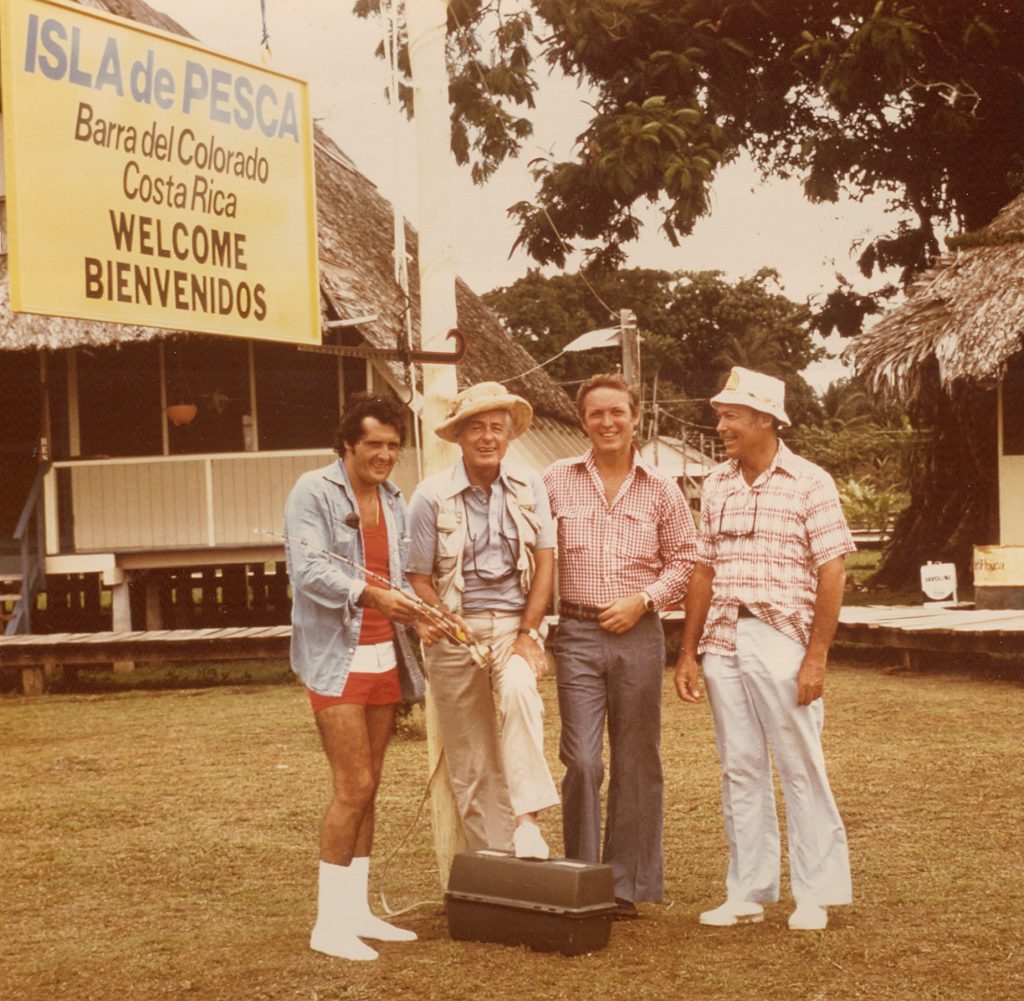 S: That was in Sandy Key Basin out there. That was the first Kevlar Maverick ever made. It was late coming for the show. (One film person did that whole show – a cinematographer from American Sportsman.) Because it was late, I didn't have time to get a poling platform put on it. I have that on DVD now. That's one of the DVD's on my website that's for sale. It's got Herman Lucerne in the first half tarpon fishing using bait-casting tackle in Wood River Creek.
M: Maybe I did see that. You put a tremendous amount of pressure on this tarpon, it was awesome how quickly you landed it. It was a big fish.
S: That was on 14 pound Stren.
J: Talking about putting pressure on tarpon you pretty much perfected the technique.
S: You know, I think I did. Nobody ever taught me how to do that. I have an analytical mind, I pride myself on that, and I try and figure out why the fish do what they do when they do it. That's what I've always done to be able to find the fish. When I hook them, something will happen and I'll say "wow, why don't I try that again on the next one?" That's how I started the "down and dirty".
Speaking of the "down and dirty"…what's interesting is that I've only fished with Billy Pate one time.
Right then, Stu folded his hands on the table we were sitting around. He had an expression on his face that reflected the gravity of what he was about to say.
Billy isn't doing too good unfortunately. He's in dementia and he's really gotten frail. Thank God, he found this gal in Russia that he married and she is taking such good care of him. She's big, she's very mannish and towers over him. She takes care of him. That is the best thing that Billy ever did.
Anyway, I only fished with him once and I showed him how to do the "down and dirty" and on his next fish I said, you do this and do that. He said, "I can't, it's just too hard." Yet, in his film that he did for Scientific Anglers, you see him doing the "down and dirty" just like I showed him.
J: We talk about the "down and dirty" when we fight tarpon, really any fish.
S: That permit (pointing to a permit mount on his living room wall) was on 6 pound spin off Sunshine Key and I had a guy who was the outdoor editor of the Arizona Republic Newspaper, Bob Whittaker, and he wrote a lot for Saltwater Sportsman also.
M: That's the permit I was thinking of then because the IGFA did away with the 6 pound records and then they brought it back.
S: The IGFA, on that one, they started their records at 12 pound, so it didn't go into that. But it became the ISA (International Spinfishing Association) Record and it was on a Penn 722 reel with an ultralight rod and 6 pound line – not even a double line – I just tied a hook on. There's a picture of it in the little book (Stu Apte's Fishing in the Florida Keys and Flamingo).
M: I've followed you since I was a kid growing up in Miami and used to follow the fishing articles in the Miami Herald. In fact, articles about you and Bill Curtis fly fishing. I thought- what is that? And those pictures that were in the paper of you holding those big snook that you all caught – because snook was my most favorite fish when I was a kid. I was quite impressed.
S: I'm going to tell you a story about Bill and myself.
M: You two were buddies weren't you?
S: Oh yeah, I caught him his first bonefish ever. In the 1950s, I got out of the Navy in December '55 and I was involved with McChristian's Capt. Mac's Tackle Shack. That's where I met Bill. We went fishing and that's when he caught his first bonefish in Biscayne Bay. Now, we made a pact that I was going to pole him for the Metropolitan Miami Fishing Tournament Bonefish Release Trophy and he was going to pole me for the Tarpon Release Trophy. I won the tarpon release and he won the bonefish release. And they had the Miami Beach Summer Fishing Tournament and we did the same thing all over again. So, yeah. Then we formed the Four Sportsmen where we were tackle testers for Pflueger, Ted Williams Tackle and so on. That's the picture in there. (Stu points to his office.) Ed Louise was the Florida Representative to the Saltwater Sportsman Magazine and wrote for them, Jerry Kirk was a fireman. There's a great chapter in the book where I took this tarpon over in Flamingo in the dark, it was with a spinning rod, hooked it up at Arsnicker Key and the first point at Nine Mile and it was a long fight. And then, I also went into detail about this pretty little redhead that snuck into my bed one night. We were renting a cubicle at Popeye's. It was a boat that they made into cubicles on Conch Key. And, I mean I was a young dude fresh out of the Navy, and that was 1956 when that happened so I was 26 years old. And, to have a pretty young thing slip into bed with me, it turns out she was married to a guy that worked there. I didn't know that. But when I told Jerry the story, it's in the book, he said "nobody else could be that lucky."
M: That tarpon that you fought into the night, did you land it?
S: No, I had two gaffs in the boat. The longer handled gaff, Jerry got it into its mouth and it came up and shook its head and ripped the gaff out of his hand and knocked him in the head with the handle, knocked him down on his knees actually, and I still had it hooked up – it was on 8 pound spin. The gaff was gone. I still had a smaller gaff in the boat and after many hours and all the way across Nine Mile and through Man of War Channel into Conch Key Channel in the dark – mosquitoes like you couldn't believe back then – it was a slick calm night. He put that second gaff into its mouth and knocked that out of his hands and broke off at the same time. I don't think that either one of us was too sorry it broke off; but I would never intentionally break a fish off.
We took a short break in the interview to watch a video of Stu sailfishing in Guatemala last year during his 3rd Annual Stu Apte Fly Fishing Sailfish Tournament.
J: When we were watching that video you mentioned your lucky turquoise socks –what's the story behind your lucky turquoise socks?
S: For some reason I found these turquoise socks to be good luck. Every time I did a major TV shoot for American Sportsman I'd wear them. No matter what I was wearing I'd wear those turquoise socks. I actually still have six pair and I've had them since the late '70s. I have had some tough luck with Bob Stewart trying to get a show in Key West. We were set up two different times down there and we got weathered out both times. Once to do a permit show. The other time we broke down with a loaner boat and had to get towed in and then the weather was really, really bad. So, when we went to Guatemala, I said "I'm going to take a pair of my turquoise socks along." And, this place normally has awesome fishing. I mean, to have 20-30-45 fish raised to a boat per day is nothing. During the warm-up days to the tournament we had a fair amount of fish, the week before it was gang busters there. The tournament of three days – I had one cast each day to a fish. And I caught it. I only had one presentation each day. My partner had only one presentation each day. We'd take turns – fish for fish. He never hooked one. He had the fly line tip wrapped on the one fish that really crashed the fly. We ended up nothing because I wrote the rules. The rules state that both anglers must land a sailfish in order to be a team champion. So you can't have just one hotshot. You have to take turns. I was high rod with my three fish because of time – last fish caught first. That's how bad the fishing was then. The last day my partner put on my turquoise socks. It didn't do him any good. I'm going to have them with me in January. (Tournament)
J: Going back to the Pacific Sails – the 200 you've caught…
S: Now, these are really "caught" fish, not like a lot of people claim caught fish. As an example, during the tournament, this past April, we had more blue marlin by the boats on fly than sailfish. Don't know what happened. The boats we have down there – the smallest one is a 38 foot Rybovitch and the rest are in the 40 foot range. They have all kinds of fantastic electronics on them. They could paint big schools of bait down 100 or more feet. Maybe that means the sailfish were down there with the bait – I don't know. Possible. But I had checked with friends that fish a lot in Costa Rica after we got back – during that same week it was a void – they had some blue marlin around but no sailfish. I checked with Tropic Star Lodge – same thing during that week. I think there were two sailfish raised in the camp during that whole week. Why, I don't know. I have always thought the eddies of the Humboldt Current bring the bait and the fish into these areas. Some people have said, no it's not the Humboldt Current. Whatever the current is, I like to see those little sea snakes that come with the current.
They're deadly poison but when they are there the fish are there. That same current out in the Pacific. I don't know. We're not doing the tournament in April again we're doing it right in the top of their season – January 18th. I'll fish two warm-up days. Flying down again with my dear friends from Indiana that have a magnificent private jet and pilot. They flew Jeannine and me to Costa Rica last year. They fly from Indiana to Marathon to pick us up. Sure beats the heck out of going to Miami. I actually went pheasant hunting with them this last October in North Dakota. I was doing a limited edition book signing. They have a restaurant – they have a farm – they raise everything – they have Kobe beef, had the original steers shipped from Japan and they do all their own Kobe beef in the restaurant, they raise all their own vegetables, their own chickens and turkeys and everything for the restaurant. That restaurant was only a side thing his wife runs. They just sold a very large insurance business they had, a corporation, they did specialty insurance. They insured all the American League, the National League baseball players. The American League and National League football players – they lost money on that they said because a lot of them got hurt. Movie stars and so on. The US Olympic Ski Team they insured. They are entitled to have their own airplane. They're out of that but they still have the airplane. They'll be picking Jeannine and me up in January. The two brothers won the last two tournaments. They're not the greatest anglers in the world but they are the luckiest. They are two of the most pleasant individuals you'll ever meet.
M: We were going to ask you: you've set so many world records and you've caught so many fish, all around the world, is there a particular fish that you like pursuing more than all the rest?
S: I've been asked that question a lot of times and I've answered it the same way every time. If I had to pick only one fish that I would be able to fish for the rest of my life, only one place to do it in and only one way to do it – it'd be fly fishing for tarpon on the shallow flats of the Florida Keys. It is the greatest challenge in fishing, especially if you're using proper tackle. I've gone all the way up to 16 pound leaders now – I used to do it only with 12 pound – most of my records are on 12 pound. Even when I'm sail fishing now I like to use 12 pound.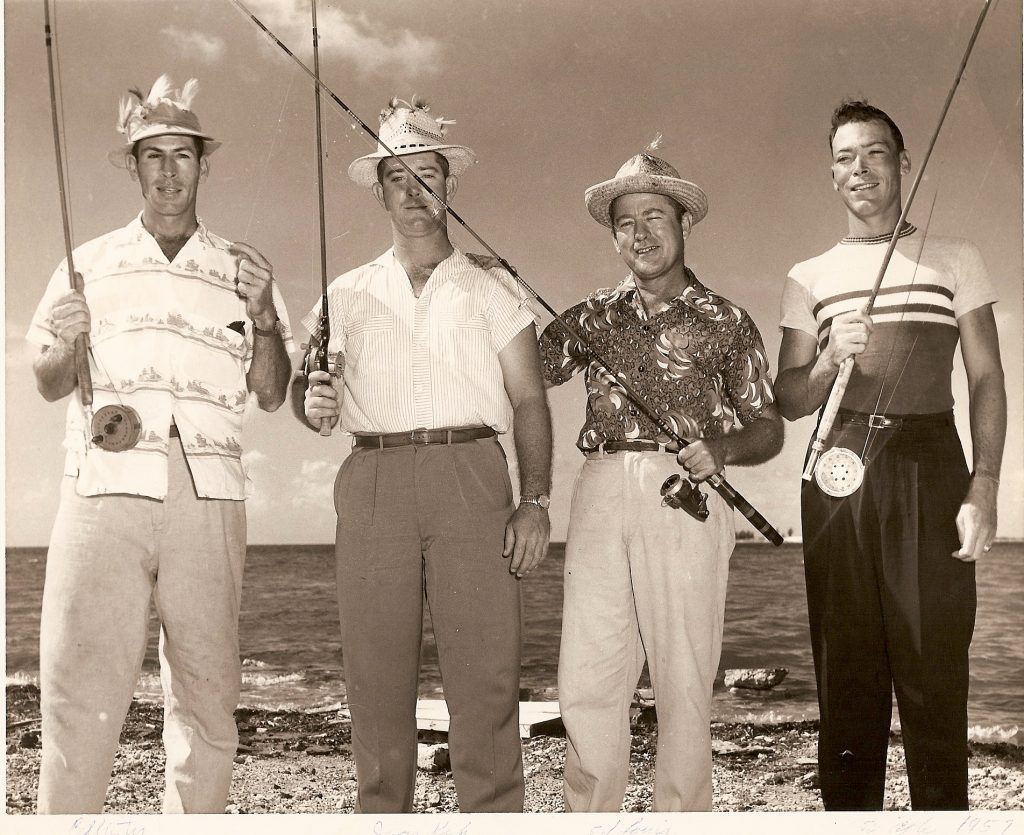 J: For the challenge?
S: For the challenge. It's hard to break 12 pound if you do it smooth.
M: If you do it smooth – what do you mean by that?
S: I'll give you an example: if you were to have somebody tie your 12 pound test leader to your rod about 100 feet from you and you pull on that with the rod you can't break it. But if you wind down tight and point the rod at that and snatch it, it'll break. So when people say that fish broke me off, I say "NO." "You broke that fish off." When you break a fish off, it's generally because of a jerk on each end of the rod. When I do seminars indoors, I go into fish fighting and how to do it. I generally bring a spool of my wife's sewing thread. I'll give everybody a piece and tell them "wrap it around your fingers, hold your arms straight up and pull your arms apart very slowly and smoothly." It's hard to break it. I say, "Ok, now, take this piece and do the same thing and snatch it." You don't even feel it break. That's how you break the molecules. If you pull smoothly on a fish and wind down you're not going to break it off. The people who have their drag coming off the fly reel at seven pounds and eight pounds of drag, if the fish runs out 100 yards and jumps, it's going to break you off – there's nothing you can do with that much drag coming out of there. My drag won't even register on a scale pulling it off the reel. Won't even move a Chatillon or 15 pound Boga Grip. Won't even move it. My fingers are on the line. I hook a fish, and while the fish is running, I take a glove out of my back pocket, put it on my left hand and that line is going through my fingers. I can apply 15 pounds of drag by doing that and yet I can release it immediately and not break the fish off.
J: So you're not handicapping yourself.
S: No.
M: I knew the answer about the tarpon but I wanted to hear you talk about it for the interview.
S: Thank God I don't have to make that choice because I enjoy all kinds of fishing with all kinds of tackle. People think that I only fly fish but I do more spinning and bait casting than I do fly fishing – always have. You look at my room downstairs and you'll see a lot more spin and bait casting rods – and I've got a lot of fly rods rigged up on the wall – but I do more of the other.
M: I talk a fair amount locally to different groups and for years I've said Stu Apte is one of the best all-around light tackle fishermen. People have asked me, well, what about some of the others. I've heard Ted Williams was the greatest all-around light tackle anglers.
S: I have said that many times. People ask me what kind of a fisherman was Ted?
In my mind, the years we fished together, he was one of the top 10 all-around anglers, not just light tackle, but all-around anglers. Now a fisherman is someone who fishes. An angler, in my mind, is someone who not only fishes but does all the things involved with the tackle, the baits. Ted was a student. He wanted to know how to sew the baits for offshore trolling. He wanted to know how to do all of it and he did do all of it. He could tie as good a fly as anybody.
That reminds me, the chapter in the book of Ted when he had called and left a message on my phone at home – my mother told me when I got home from college. I tried to call him back finally. The gal who answered the phone – I think it was a maid – I told her to tell Mr. Williams that it was Stu Apte, the guy he had fished with. I was holding a dead phone for a long time. I almost hung up. When Ted came to the phone he apologized. He said "Stu, I'm sorry. I was right in the middle of tying a bonefish fly what are you doing tomorrow Bush, want to go bone fishing with me?" That was our second fishing trip together.
J: You met him over on the trail?
S: Yeah. I took him to the Marco Canal.
M: I read an interview of you, both Joyce and I did, right after Ted Williams died. We were in the Key West area and read it in the Key West Citizen. You talked about your first encounter with Ted Williams as you were driving out the old Marco Road, you had a fly rod out your window and…
S: In a 1941 De Soto.
M: You described him as a big guy. Back to this newspaper article it was such a fascinating interview about your encounter with Ted Williams and I remember so much of it.
S: There were a lot of telephone interviews like that.
M: Was he the first fellow that taught you how to Keys fish – how to bonefish?
S: No, no. Long before that – a couple of years before that. I won the Metropolitan Miami Fishing Tournament. Joe Brooks was the manager of the Metropolitan Fishing Tournament at that time.
M: So that was when you were in college?
S: That was before I was in college. I was 16 years old. When I first met Joe Brooks I had set a tournament record for Jack Crevalle on fly. That was with a South Bend 49 three-piece bamboo rod that had a terrible set in it. It belonged to I don't know how many people before I got it – and it was a throw-away rod. That was my first fly rod. I had an Ocean City Plymouth fly reel on it. That was a throw-away reel. I had a level C line. It'd be like a level 6-weight line. I still have the first Cortland fly line when they came out with numbers. The Cortland GBF the original designation was WF8F – Weight Forward Floating. The GBF was called the Torpedo head taper. Not too long after World War II was over – what a great name for a fly line – the Torpedo head.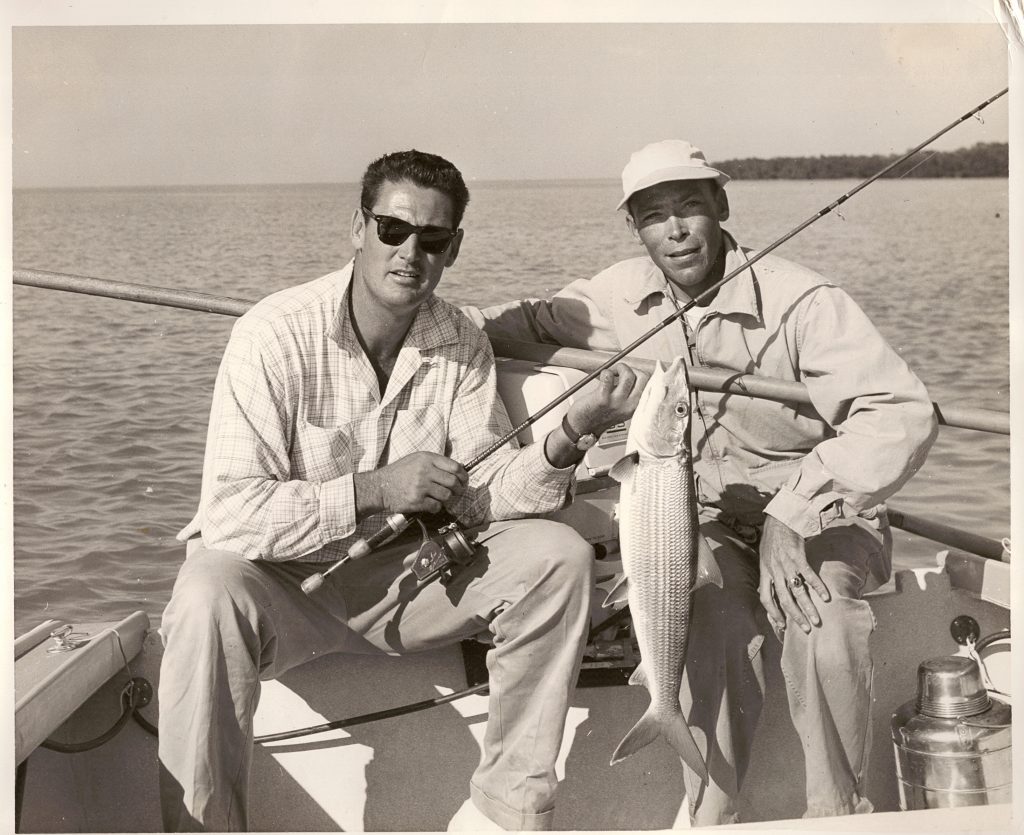 Ted had fished about everywhere but he didn't want to just go out and catch the fish. He wanted to know how to do all the rigging, how to run the boat, why this, why that? He was a student which is what I've always prided myself in being – having an analytical mind. That's really why Ted and I hit it off as well as we did. He used to – when he fished in the lower Keys he'd stay at my house on Little Torch Key (after I built that). When I'd fish in the Islamorada area I'd stay at his house up here. So, I spent three to four Thanksgivings with Ted up here in his house with two different wives (ex-wives). I knew all of his wives.
M: He was one of the greatest anglers you've ever been around?
S: Yep. But not just a fly fisherman.
J: All around?
S: All around.
M: I've been lucky, fortunate to fish some fellows that were around a long, long time. There was this man I fished – I fished him for the last time two years ago. He was 94 years old. And this guy's name was Larry Madison. He called himself an "Old Filmmaker".
S: I knew Larry very well.
M: You're kidding?
S: Oh no. I even have a book, large size book, he did one time.
J: On photography?
S: On photography.
J: He was such a gentleman.
S: He always was.
M: He was a crusty guy, though, but he was great.
S: I have known him since the late '50s.
M: This is what he told me. His first time fly fishing in the Florida Keys – I believe he said it was 1947 – his guide was Bill Smith's wife. And that was his first experience down here in the Keys. But I want to tell you something about him if you lost track of him many years ago. He started fishing me when he was in his 80's. When that man stepped up on the casting platform, I didn't know what to expect. He had a friend with him. But when he stepped up there and started going into his casting stroke it was "Wow". I said to myself that this has got to be the greatest caster for his age in the entire world. He could cast. But the one thing that I was getting at – he always brought a plug casting outfit with him. Did you know Ev Erlich?
S: Sure.
M: Ev Erlich was the same way. I had the pleasure of fishing Ev for a number of years and he always brought along a plug casting outfit with him. I also remember Chico Fernandez saying he loved to plug cast too, describing plug casting as the "other" art form.
S: Yep.
M: I'm sure you've heard that expression a lot of times. A lot of those fellows back then – they would fly fish and plug cast?
S: We didn't have spinning tackle. Spinning tackle first came out in the late '40s – like '47, '48. I didn't have a spinning outfit but I had a plug casting outfit and I would fish it with either 10 pound or 12 pound white Dacron – squidding line or whatever it was – and then I would add 10 feet of five pound test monofilament onto that. And that's to compete with the guys with spinning rods. Five pound test was what they had back then. The first of the spinning reels that I know of, was the Record reel made in Switzerland, and then the Mitchell and so on like that. I used to catch bonefish out here in Biscayne Bay on a plug casting outfit casting a quarter ounce Nylure. Bob McChristian called me "Nyloon" because I caught everything that swam out there on a Nylure. But it was a bait casting outfit.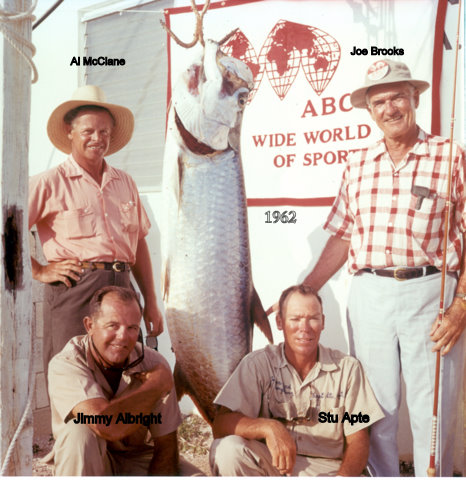 J: Mike and I were talking about that. So many good casters do both. They are very proficient at bait casting as well as fly.
S: Have you ever heard of a man by the name of Dave Newell? Dave was editor-in-chief of Field and Stream Magazine for a lot of years. He was the one who hired Al McClane for Field and Stream as Angling Editor. Dave had a radio program long before television called "The Hunting and Fishing Club of the Air" with Dale Borden and himself. He had the very first TV show and they were showing some of the stuff a week ago on television and I recognized him. See the picture on the far wall over there of a tarpon jumping and a guy fighting it on fly? Dave Newell did that and sent it to me. Dave at that time was close to 90 – he's not around anymore. He lived up in Leesburg, Florida. But you know these people all had a great influence on my life and what I did, the way I thought.
The one who had the biggest influence, I think, was Joe Brooks. Joe…they broke the code when they made him. Joe would do for people, maybe he didn't even know them, go way out of his way to help people. Joe was a practicing alcoholic. That was the first thing he'd tell you if he came to your house for dinner. If you cooked anything with alcohol, liquor, he'd say please tell me because I can't tolerate it. But I used to go to Brothers of the Jungle Cock – Joe used to put on things and I'd go with him. But, also, to orphanages in Montana. I'd be out there with Joe. He'd put on a couple of hours program for the orphanage. That was Joe Brooks.
J: He just had a big heart.
S: Yeah. I've only heard him say something derogatory about one person, only time, I'll not tell you who that person was he said it about because you'd know his name. But Joe…I learned a lot from Joe besides fishing. As a matter of fact, I just wrote a 2200 word piece for the next issue of Bonefish & Tarpon Trust publication. They asked me if I would do that. A bunch of it had to do with my first time fishing for bonefish in Key Largo and it was with Joe Brooks. We drove down old U.S. 1 and parked alongside the road up at Upper Key Largo – I was 17 years old. We had to run through this overgrown dense, dank area for hundreds of yards. You had to run because of the mosquitoes. All we had was citronella then. We reeked of citronella and when we would finally break out of the mangroves to the water I knew it was worthwhile because there were gobs of tailing bonefish all over. And, it was one of those trips over there, this side of there, and I was using a plug casting outfit with a Leapin' Lena. You ever hear of that plug?
M: I used to use that plug around Broad Causeway a lot when I was a kid.
S: Doing what we called the "Florida Whip" which is now called "Walking the Dog". And I was fishing for a 30 pound barracuda that I knew was there. I was wading. And I got this tremendous blast while "Walking the Dog". It took off and it was going to take all of my line and I was wading out deeper and deeper and deeper. It turned out to be a nine pound, 14 ounce bonefish. It won the MET Tournament plug casting division. And it was on a top-water plug.
J: You like topwater more than…
S: Well, I like sight fishing of any kind and I'll do anything.
Aaron Adams asked me to write a feature article about bonefishing. We were in Montana together at an executive board meeting for Bonefish & Tarpon Trust at the end of August. He asked me to do this in front of everybody and I said sure, I'll do it. Writing is not easy for me, it's time consuming. Anyway, he said, they think they only want about 1000 words. I did 2250 words. So I emailed him and said you chop, chop, chop but don't change any of my thoughts.
I have the manuscript here. Read it out loud so Mike can hear it at the same time. At that time, I read the lengthy manuscript Stu wrote for the Bonefish & Tarpon Trust.
M: We're not going to keep you much longer. But, there are a couple of other questions Stu. Getting back, you watched it all grow, the Keys fishing, the shallow water fishing, the offshore fishing especially on fly. And then you were right in there on the cutting edge, you were creative, you recommended and developed your five flies and a lot of other flies. I'm sure the equipment you were talking about – the clicker drag on the old Medalist reels, how the equipment has improved since then. Do you think that is the reason why there are so many people involved in fly fishing today or one is responsible for the other. More people got involved and the better the equipment got?
S: Why do you think so many people are involved in golf or tennis? The television, the movies. I think a lot of people are "wannabees" and they'll never be good at what they do no matter what it is. I have some friends that are great people and great "wannabees"
M: Do you think that's because they don't put their heart into it?
S: I think it's here, right here (pointing to his head). I think talent is part of it. I'm thinking of a couple of different people that have natural coordination; yet, when they look at a fish, if it's a good fish, they go to shit. The best way to overcome buck fever is to do it. The more you do it the less you should have buck fever.
M: I know you helped design boats. You have recommended to rod builders how to design rods. And fly lines. And reels. You were right there doing it all.
S: The way I do that is for what I would like to have. Not that I'm any engineering genius, it's what I would like something to do for me is the way I like it to be. I can't tell you how to build it but I can tell you what it should do; and how it should work.
M: I'm sure they accepted your recommendations because that's who you are.
S: Not who I am but what I've done in the past. That's why Ranger brought me on board.
M: Do you think all of those improvements have made it a lot easier for guides and anglers as well?
S: Definitely makes it easier for guides, makes it easier for people.
M: Talk about push poles. Your buddy, Bill Curtis, I understand that he was the one who came up with the idea of using a poling platform.
S: I've heard that, I don't know.
M: The early-on guides were using push poles down here, like Harry Snow, Sr. Weren't they wooden push poles?
S: Wooden dowels. I have a picture of me back in late '50s standing up with a wooden dowel. After so many years, they would get wet and dry, they'd start checking, big splinters would come up. Even the thick calluses I had on my hands and fingers from those days, the splinters would penetrate. There were times, especially during the ABC Wide World of Sports, that I had to wear cotton gloves poling because of that.
M: When were the first manufactured push poles?
S: I had the first fiberglass push pole. And, it was a pole-vaulting pole shipped to me from California by Conolon Rod Company – they were pole vaulting poles. I had them ship one down.
M: Did you have to put a foot on it?
S: Of course. I used a guava fork from a guava tree. They were great forks. We used to have a bunch of guava trees out in Redlands (Homestead area). I showed Flip Pallot about them. Flip and I would go out there and get these things and whittle them down where they would fit inside the fiberglass. We would epoxy them in. It got to where we couldn't reach any of these, so, there were some other ones high up and we'd take a shotgun and shoot them off. True story.
M: The boats you were using back then don't resemble today's flats boats.
S: Some. I designed 2 boats for Fibercraft. One of them has been knocked off a bunch and is still being manufactured and used. They've made some modifications on it. But I had a 15-1/2 foot Fibercraft that I first ran a 35HP, then a 40HP. Then I did the 18 footer and ran a 75 which was bigger than a 135 today. Then, finally, a 90HP on it. That's what I used during the Wide World of Sports. We poled them from standing on the bow, stern first. I can remember numerous times when I had two clients in the boat. I'd have one of them sit directly under me so I could get some weight off the transom cause I'm pushing a lot of water.
I'll give you a little quickie: this is about Joe Brooks and Ducky Cochran (who owned the Orvis Company back then, back in 1959 or 1960). Joe brought Ducky down to fish with me for tarpon. Joe did a lot of work for Orvis. He fished nothing but the Orvis bamboo rods and so on, which I thought were "yuk". I have a lot of Joe's bamboo rods from 8 foot to 9-1/2 foot that he gave me. Anyway, this one time Joe was sitting directly under me and I'm chasing some tarpon to get Ducky in front of them. I was in about five to five and a half feet of water, hard bottom, kind of a cap-coral bottom. I'd try to go quick and I'd catch the pole and I missed it and it bounced off of Joe's head and I caught it on the first bounce. It went "Kabong". I don't know if you remember a comic in the movies called Kabongo – this was a guy who had a banjo, a real character. He'd get the bad guys and they would say "Kabongo strikes again." Anyway, this provoked me to say "Kabongo strikes again." All Joe could say was "My God!"
J: I know we're taking up a lot of your time but you were recognized as a great guide and always at the top of your game, what in your opinion, Stu, separates a guide from being a very good guide? If you were hiring a guide what would you look for?
S: That's a good question. You know, I think it's easy to answer. To be a good guide you should be able to be a reasonably good angler. I know one good guide that was always a good guide that did not like to fish but he loved to guide; and that was George Hommel. George did not want to fish. But he enjoyed providing, getting the angler to fish. For some reason, he didn't like to fish and he'd be the first to tell you. I've done a number of things with George and Johnny Morris- flew over to the Bahamas in Johnny's jet. George doesn't like to fish, never did he said. He's a hard worker and pleasant in the boat.
But I think that to be a great guide, good guide, you really have to have the "want" to produce. We have a lot of guides down here. I call them dock guides that operate from a marina. They get their bookings when somebody walks into the marina and walks up and down the dock. The guide's sitting there saying "I'm not booked today." These are the guides, all they care about, for the most part, at the end of the day – seven hours – getting their palms crossed with silver. Not the ones that really want to go out and produce. I mean, I can name a dozen more that, who have their boats on a trailer, they go where the fish are and the conditions set it right and they want you to be at the dock this time of year no later than 6 a.m. You won't get back to the dock until dark. Steve Thomas is one of those. Steve is like a son. I broke him into guiding. Originally he was a flight attendant with National Airlines and then Panama. He's 52 or 53 and also a fireman in Ft. Lauderdale. He has another two years before he can retire from that. He loves guiding. I was the same way.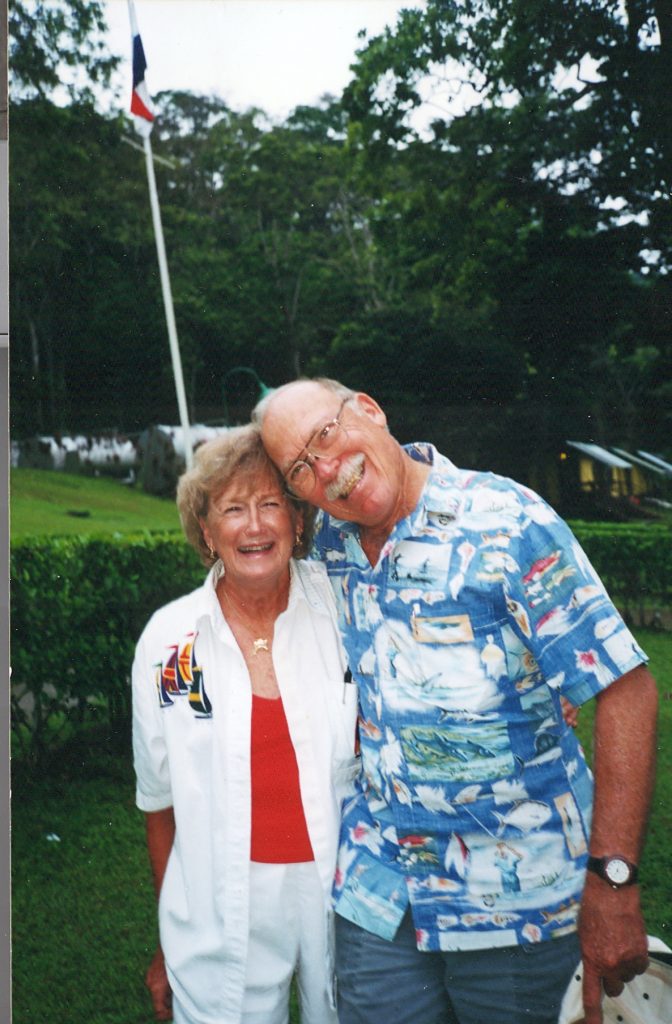 I used to have guides back in the early '60s that, the Snow's particularly, would get on my case. "You go out too early, you stay out too late, you make us look bad." Let me tell you, if you don't like what you're doing, go be a carpenter somewhere. I take my people fishing where I like to fish. It means something to me. Not just the dollar. And that's what it takes to be a good guide. The Timmy Hoover's, the Steve Thomas's, the Rick Murphy's, these are guides that don't go by the clock. They want to produce and that's what it takes.
M: That leads to another question. You've been around so many of the great, great guides, early on who are legends like yourself, and right up through today, if there is maybe one or a few guides that you yourself would recommend .
S: I just mentioned some of them. Dave Dinkert, his wife Linda is an excellent lady angler. Their daughter won the IGFA Junior Tournament. Dave calls me or his wife emails me periodically when he has a day or two off. He'll say "Snook season opened yesterday do you want to go grocery shopping?" We'll go fishing. I'll kill not over two snook a year. I'm not a fish eater. Jeannine does a coconut-fried snook recipe that's to kill for. I got an email from Linda the early part of this week that Dave had a cancellation for a couple days. I couldn't go. I'm too busy.
J: So you don't get to fish that much anymore?
S: No I don't.
M: One other thing too, all of the equipment you've been involved in designing, is there anything in particular that you were just super proud of? A boat, a fishing rod, a fly line? I know you're proud of your flies because they still work very well.
S: I'm super proud of a rod that I designed for Diamondback that Cortland was distributing. My signature series rod from a 4-weight to a 13. When I quit Cortland two years ago – I just didn't renew my contract, they pulled the rods off the market and I bought all they had in stock at a good price. I've sold all but about two of them at $100 over list price.
M: What was unique about that particular rod?
S: I designed the rod to be the easiest casting rod there is on the market. You can cast 70 feet without double hauling, with ease. You can hold the fly in your left hand and when you see the fish, have just this much line out of the tip, roll it forward, shoot line on the backcast and make a 60 foot presentation. I've designed the rod to do that. Easy casting rods. There's nothing that you can't break. But these rods have two different kinds of graphite in them plus s-glass scrim on the outside. And, they are awesome rods. When I was out in Montana in August for the Bonefish &Tarpon Trust board meeting, I took a 5 and 6-weight out there, floated the Big Hole River with Jeff Hockabee. He tried my rod and he had to have some of those he said. He's been a Sage guide and Loomis guide; so, he bought a 4, 6 and an 8-weight. When people try them – they've got to have them. I'm very proud of those. Quality is important to me.
M: It's like being a guide. You have to be somewhat of a perfectionist too.
S: Exactly, same thing about being a live fighter pilot. You have to damn well be a perfectionist. The same thing goes for airlines. I mean, you read some of my flying chapters, almost anything that could happen, happened.
M: It brought to mind a question that I particularly had in mind after reading that article about Ted Williams in the Key West Citizen that he was a Marine Panther Pilot in the Korean War, Navy Carrier Panther Pilot. Did he get you interested in flying or was there already an interest there?
S: I didn't know I'd be interested. Instead of going to medical school and being a doctor (cause doctors don't get enough time to fish) I have a bachelor of science degree – I was a chemistry major with a zoology minor. Then Korea had started. Ted (Williams) didn't talk to me about flying. He didn't like the flying sh–. The only reason they made him fly was this: when the marines called him up to active duty (actually he told me this), they called him up to play baseball for the Marine Corps – for the publicity of it – as an officer. He, being Ted, said "I'm damn well not going to play baseball for what you're going to pay me". "OK, Mr. Williams, we're going to retrain you as a pilot." I'm sure Ted thought about that many times over in Korea. He made a mistake. Ted did not like to fly.
I'll tell you how much he didn't like to fly. When Nixon ran for President and they were having a big American Legion convention in Miami at the airport, he was going to be talking on television and to the American Legion. There were thousands of people there. He didn't like to fly. Ted asked if I'd fly him up there. I had a Piper Tri-Pacer, two seater/three seater. He wouldn't fly but I did. And, you know, we had special permission to land at Miami Airport and all that stuff. We were met and brought up to the podium, big wooden-stake-like podium. We were on television. I was only standing there, I didn't say anything. Ted was talking with Nixon and so on and so forth on camera. We flew back down, went home and my telephone rang that evening at about 7 o'clock. My mother was all upset. She said "You didn't tell me you were going to be on television with Ted Williams and Mr. Nixon." I said, "Mom, I didn't know either." She said "My phone's been ringing off the hook, my girlfriends are calling, saying they'd been seeing you on television."
M: Where do you think fly fishing is headed today, especially with the economy?
S: I think the economy is only a temporary deal. I grew up as a very young boy during the big depression, where I can still remember eating meat one time a week. My dad was in the wholesale produce business so we had plenty of fruits and vegetables, thank God. Even one time, my mother, this was like 1933, 34, 35, 36, around that era, my mother told my dad one time that he should get a pet for the boys, my older brother and myself. She said they should have a pet. So, he came home with a Billy goat that someone gave him for payment for vegetables. We had it tied up to the clothesline in the backyard and it commenced to eat everything, so we had to get rid of that.
Definitely more and more people are getting into fly fishing. There are some outfits on the market that are at least as inexpensive as spinning or bait casting tackle.
J: Is there anything you would like to add about the book that we haven't discussed?
S: One part that I was not going to write about because I didn't write the book as a "look at me" type of book. But, Jeannine insisted that I write about my cancer. She said, the way you beat it will help other people who have infirmities and how to go about doing it.
« Previous Post
---