It Was The Best Of Times: By Jim Stenson
For someone who loves to chase anadromous fish, I happen to live about as far away from an Atlantic salmon river, or a decent steelhead river, as is possible in the continental United States. I live in Mobile, Alabama. I'm not upset because Alabama is home to some of the best freshwater fishing in the Southeast and could easily be considered the jumping-off point to some of the best saltwater fly-fishing south of the Mason Dixon Line.
I can think of worse things to do in the late afternoon than slowly drifting along the banks of a gorgeous lake, pounding the cattails with micro poppers for giant bluegills and largemouth bass while simultaneously fending off the mosquitoes and listening to the high pitch caterwauling of the redwing blackbirds.
Still, the lucky among us have, at some point in time and space, found that one, maybe two, species of fish we fell in love with (though my wife uses a repertoire of different words I'm not entirely sure are legitimate synonyms for lucky). For me, those fish are steelhead and Atlantic salmon. For others, it might be tarpon or permit, snook, or redfish. If you held my feet to the preverbal fire, I would have to admit the truth – I also love permit fishing! Essentially that's what this book is about – the three greatest gamefish on the planet, at least from my perspective.
Unfortunately, the pull of the famous steelhead rivers of British Columbia and the Maritime Province of Quebec drive me crazy at times. Sometimes I feel like Ulysses lashed to the mast of his ship, struggling to resist the Sirens' songs and the temptation to join them. In my experience, fishermen are attracted to places that are entirely different from where they live or where we grew up. Sometimes, I think it's a combination of wanderlust, that itch you can't scratch, the other side of the fence. Glossy magazine pictures and Saturday morning infomercials lure us in when we're young, and, as with every illicit drug, once we take the bait and experience your first taste, we end up hooked for life.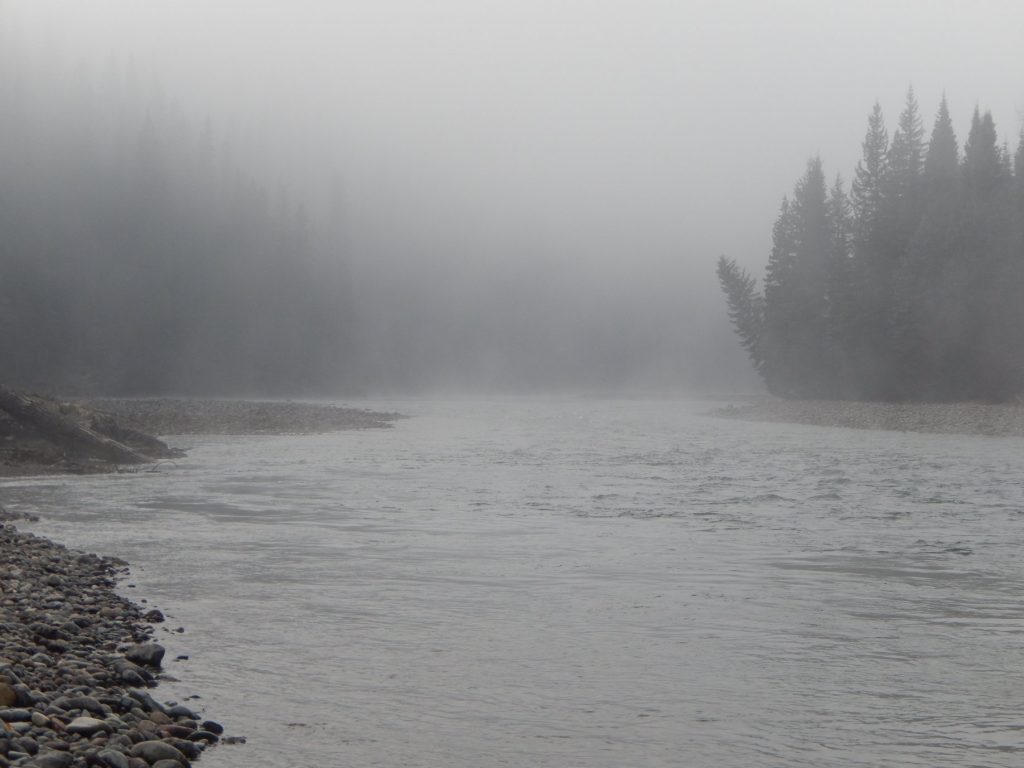 Forty-six years ago, I caught my first steelhead on the Clackamas River. It took two more years before I caught my second one on the Wilson River just east of Tillamook. My first steelhead was relatively small, maybe six or seven pounds dripping wet, but he was a bight fish nonetheless. My second one almost spooled me twice before the guide tailed the fish and slid it back into the river. A large winter steelhead, exponentially bigger than my first, it was in such great shape it might have migrated into the river that very morning. The fish was so full of piss and vinegar that, to be honest, I had little hope of landing the fish. If it hadn't been for the guide dragging my sorry ass up and down the river, I would have lost the fish.
Little did I know, but I was hooked in a paradox of sorts; I had managed to get myself addicted to a fish that, at the time, was considered almost impossible to catch on a fly. Living a few time zones away from the closest steelhead river doesn't improve odds much either. So, naturally, it became an obsession. It's been my experience that addiction to anything expensive and elusive can destroy a life if left unchecked. Honestly, I have seen it happen.
Many years later, thanks to the genius and the imagination of the late Carrie Stevens, I caught my first Atlantic salmon on the Matapedia on a Grey Ghost salmon fly. On the last day, during the last run, on virtually the final cast of a long trip without so much as a tug, I caught a bright salmon in a beautiful location on a once-famous Atlantic salmon river. The dramatic end-of-the-trip timing almost seemed appropriate for such a momentous occasion.
Years earlier, on a ten-day float trip deep in the heart of the Minipi watershed, swinging an original Grey Ghost through a deep tailout, I had managed to hook and land an eight or nine-pound landlocked salmon. My one regret: the fly, which had been a gift from a close friend, was falling apart by the time we landed the fish. I should probably never have fished that fly, but, for some reason, I think Carrie would have approved. Some flies have a life of their own and, regardless of their value (sentimental or otherwise), need to be fished – just like old bamboo fly rods. Still, when the guide discovered I had destroyed an original Carrie Steven's, he teetered on tears. Or, at least, he pretended to; one never knows with Newfies (an affectionate moniker for Newfoundland guides). They have a sense of humor of their own. I, on the other hand, was just amazed he even knew who Carrie Stevens was.
In short, I can blame my addiction on my great fortune to have fished some of the most productive steelhead rivers on the west coast. Of course, having covered a significant fraction of the most productive rivers is not all that impressive anymore, considering that only a handful of great steelhead rivers still survive. Atlantic salmon rivers don't fare much better. Like most steelhead rivers in California, Oregon, and Washington, the Northeast's Atlantic salmon rivers have all but collapsed. If you're lucky, you can catch a faint whiff of what was but will likely never be again.
The Gaspe is the last great stronghold of the Atlantic salmon in North America. Three years ago, Joe Hovious and I had the opportunity to fish Middle Camp on the Grand Cascapedia for Atlantic salmon. Somewhat less than ideal, the second week of August remained the only week available, so we had to content ourselves with the inauspicious dog days of salmon fishing. Believe me, when I tell you, I would have sold my soul to the devil for one or two weeks on the Grand Cascapedia in May, June or July. Give or take a week here or there, May, June and July are considerably better than August through early October – exponentially more expensive too. It hasn't always been that way. At one time in the not so distant past, if the conditions were right, September produced some of the best Atlantic salmon fishing of the season; the rivers were still thriving with multitudes of Atlantic salmon in the Fall. I am sad to say those days are long gone, and without a modern-day miracle, I don't see them returning, but who knows about such things.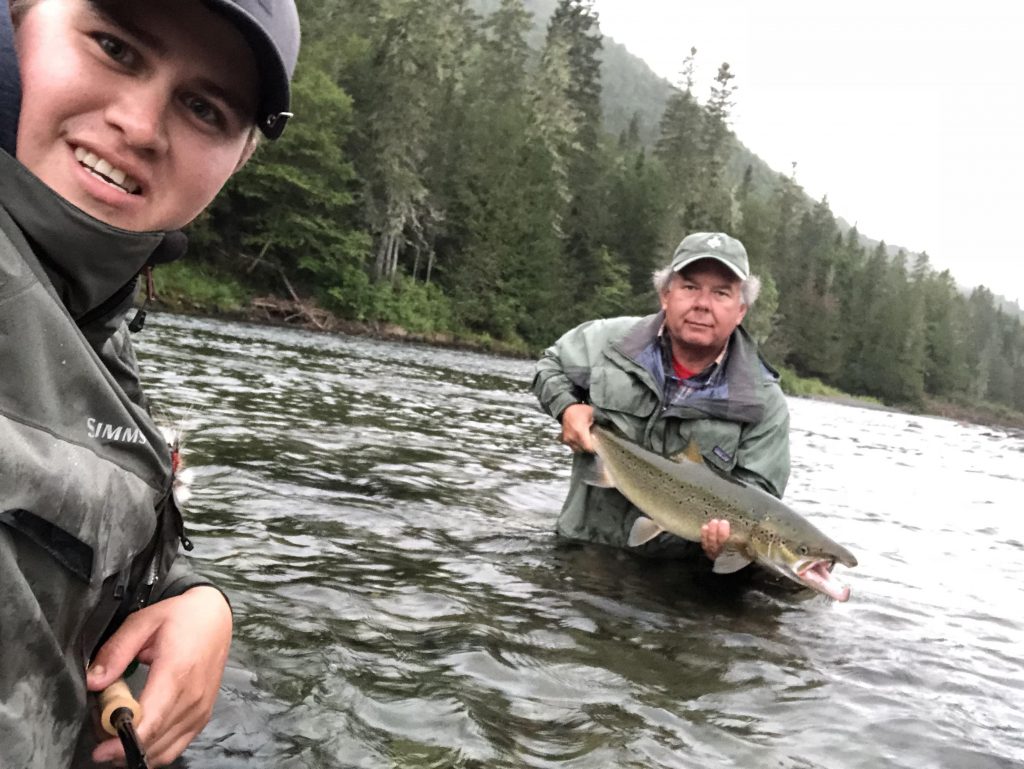 What it boils down to is that Atlantic salmon fishing is difficult under the best of situations, but with current numbers and climate, Atlantic salmon fishing in August is, at best, a crapshoot. Fortunately for us, this particular August happened to be outstanding. We patted ourselves on the back for having paid a fraction of what the trip would have cost you the previous three months. Even if we had the money to spare, chances of finding an opening during high season would have been slim to none. Essentially, fly fishing for Salmo salar remains the sport of Kings – except now that kings are far and few between and the rod has been passed to the nouveau riche, lending credence to the line from Midnight in Garden of Good and Evil in which Jim Williams informs the writer, John Kelso, "Yes, I am nouveau riche, but then, it's the riche that counts, now isn't it?"
During our auspicious late-summer trip, we constituted a party of six mostly experienced spey fishermen. The river remained relativity high for the season, and the water temperatures still teetered on the chilly side of warm. Over the next six days, we caught thirty-one Atlantic salmon between the six of us. According to the guides, three of them weighed over thirty pounds. Of course, we know the guides would never exaggerate. I'm not going to say they would blatantly lie in hopes of garnering a more substantial tip, but for the sake of argument, they might have been a little short on telling the truth. If nothing else, it makes for interesting conversation around the dinner table at night. It really gets interesting after dinner when you have to fill out the logbook. The information you put in the log goes directly to The Grande Cascapedia Society, essentially the official record-keeper of the Grande Cascapedia for posterity.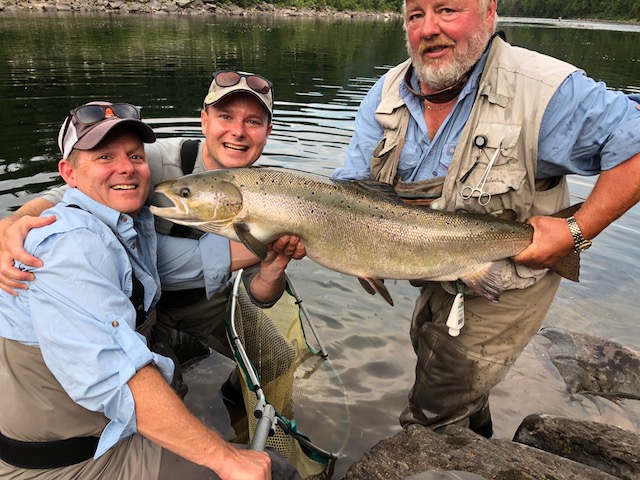 Against the odds, this particular trip was one of, if not the most productive Atlantic salmon trip I had ever experienced. One could only wonder what May and June must have been like. When it comes to Atlantic salmon, I set the bar relatively low. If I catch one nice fish, I consider the trip a success. If I happen to hook and land two nice fish, I can get a little giddy. And if the gods find it in their heart to bless me with three fish, I might cite a verse or two from Lord Tennyson over dinner. If I happen to have a whisky sniffer in my hand, swirling an eighteen-year-old Scotch, I might even start to quote Hemingway. On the other hand, if I got skunked, you might find me curled up in a leather recliner stuffed somewhere in the corner, mumbling something about "my precious" and drinking from the bottle. It's a capricious game we pay to play. It's not for the faint of heart!
Case in point, several months later, Joe Hovious, Larry Golightly, Jerry Arni, and I were headed to British Columbia in late October early November to fish the Bulkley and the Morice River for winter steelhead. The winter runs can be iffy at best. They exist, of course, but unlike the Atlantic salmon, in British Columbia, steelhead enter the Skeena drainage in the spring, summer, and fall. In late October and early November, the winter fish start to show up. The dates the fish arrive fluctuate from year to year, depending on dozens of variables. Depending on the year, October and November can be relatively mild; then again, it can be brutally cold. It's like everything else that has to do with anadromous fish; it's a crapshoot at best. Mother nature can be a fickle lady; she plays by her set of rules, not yours, and, from what I have seen, she could care less if you catch a fish or not.
So, when you finally get the chance to fish one of the premier steelhead drainages on the planet, and you ask how's the fishing, the response you're looking for is, "It's the best fishing we have experienced in the last fifty years." 
The last thing you want to hear is, "It's the worst fishing we have experienced in the last fifty years."
The "best fishing in fifty years" often occurs when the salmon run is almost non-existent, and the fisheries biologist decides to shut down the commercial fishing fleet at the mouth of Skeena. When that happens, the steelhead runs can be phenomenal, assuming it's a good year for steelhead. Not all runs are created equal, and the numbers of steelhead that migrate up the Skeena vary from year to year. When you shut down the commercial fleets, that means for all practical purposes; you shouldn't have any bycatch; still, it doesn't' necessarily guarantee a good steelhead season. Then again, I have no idea how much poaching goes on throughout the drainage. I haven't seen any, but that doesn't mean it doesn't exist.
The "worst fishing in fifty years" seems to happen when the salmon are plentiful enough to open the commercial fishing season. When that happens, the number of steelhead in the Skeena drainage plummet. Coincidence? Maybe. But, I doubt it. Until the British Columbia Government decides to track and count the bycatch, we will never have anything but anecdotal evidence. Similarly, for the number of fish taken by the Indigenous Tribes each year should be counted. Several wildlife biologists have told me that they do their best to release the steelhead, and at some level, the Indigenous Tribes understand that a live steelhead is good for business. I have had the pleasure of eating a freshly caught steelhead and can appreciate the temptation. Like a fresh King Salmon, a steelhead is delicious, but eating a fresh steelhead these days might be considered sacrilegious.
Once I am committed to a trip, I try my best to ignore the data leading up to it. For one reason, I probably booked the trip the previous year and, just because the fishing is slow doesn't necessarily mean the lodge owner or the local guide is going to refund my hard-earned dollars. Also, the Skeena Drainage is vast, and at the best of times, the fishing is difficult, so whether it's teeming with fish or the fish are far and few between, the experience promises to be similar either way. Over the years, I've tried to convince myself that the fish are secondary, that it's the experience that counts. Of course, we all know that's a juicy rationalization we employ to help us sleep better at night when we haven't touched a fish in days.
The Skeena drainage is a living, breathing ecosystem. To make things a little more challenging, it's enormous. It would take more than one lifetime to learn the entire system's ins and outs or even its more famous tributaries. The river system is continuously changing. Learning the ins and outs of each river is almost impossible if you don't live there. Not only does the river change every year, but it also changes drastically throughout the year. The water levels sometimes fluctuate daily, and, depending on the rain or lack thereof, the river can rise or fall during the same day.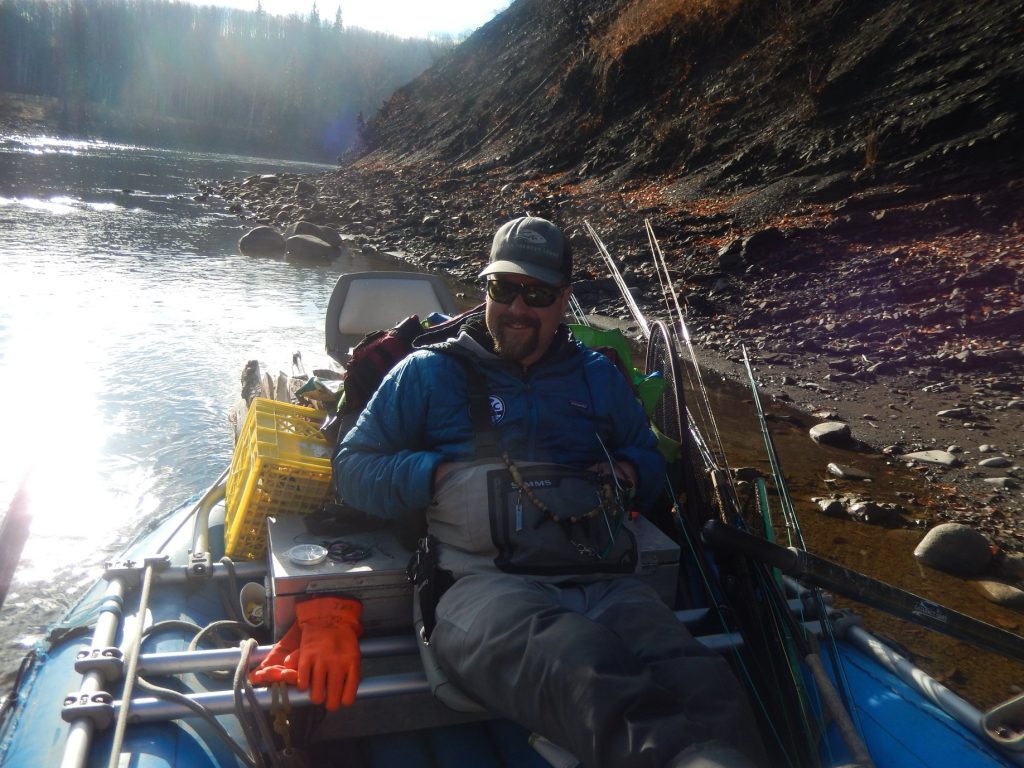 If you booked a trip the previous year, hitting the timing just right becomes a long shot at best. Hell, even if you booked it the same year, it remains a matter of chance. You do what most diehard steelhead fishermen do: you roll the dice and take what the river gives you. Like Santa Clause, the river knows if you have been naughty or nice.
Given that only a few months earlier, Joe and I had returned from one of the best Atlantic salmon fishing trips any fishermen could ask for. Chances of duplicating the same experience three months later, twenty-six-hundred miles away on the Pacific Coast of Canada, seemed a little too much to expect. We were staying at the Far West Frontier Steelhead Lodge. It's a beautiful lodge located on the banks of the Bulkley River: prime location and jumping-off point for multiple fisheries. The lodge has an excellent reputation; the hospitality is off the charts, and the guides are knowledgeable and seem to love what they are doing. It's been our experience everyone at the lodge works incredibly hard to make sure the customers enjoy themselves, and that's about all you can ask for these days –except maybe one or two more Tim Hortons; one can never have too many.
That being said, rumors had been floating around Smithers all summer about the incredible number of fish in the system. The only problem was the water was lower than anyone had ever seen it in years. The fishing was going to be tough; at least that was the prevailing attitude around camp when we arrived.
After everyone had unpacked and wolfed down lunch, we still had half a day of free fishing to look forward to. The trip consisted of seven nights and six days fishing. The fishing officially started the next day, so the next four or five hours were technically a freebie. It didn't take our group long to change into our waders and jump into trucks to hit the road or climb into jet boats to blast off up or down the Bulkley. For our part, Joe and I leisurely moseyed or way down the path to the stretch of river behind the lodge. I have to admit I felt a little cheated, but what the hell, it's hard to complain about a free day of fishing. I remember walking down to the river and just staring into what was left of the Bulkley. What typically looked like a mighty river had been reduced to a quaint mountain stream I could have essentially walked across without getting my thighs wet.
Joe started low, and I went high – the guide went with me for some reason. I don't mind fishing alone. I much prefer it. Maybe he thought I was going to freeze to death. It did not take me very long to realize that I was rather a tad underdressed for the occasion. I had one pair of lightweight thermal underwear, a lightweight polypuff jacket, and a benny. I hadn't even brought a pair of gloves. I kept telling myself if it got too cold, I would walk back to my cabin and put on some more clothes.
On my third cast I hooked and landed a rather nice steelhead, then again some people might have called a ripe tomato, but a fish is a fish, there are all beautiful. Several cast later, I hooked another fish – this time with shoulders. After ten or fifteen minutes, I landed my second steelhead, and I hadn't been in the river forty-five minutes. Following this auspicious start, we walked back down the river to where Joe was fishing to see what was going on.
The guide and I spent so much time talking about the number of fish in the system we didn't notice Joe was into what looked like a nice fish. He was stumbling down the river doing his best to stay vertical. It's incredible how fast a big fish can spool you, and the worst part about it is there is absolutely nothing you can do about it except go with the flow and hope you don't fall on your face. Not only is it cold, but it's also embarrassing. By the time we managed to catch up with Joe, the fish was starting to tire, and there was very little left to do but tail the fish and release it. It was a fresh fish. I have no real idea how long it had been in the system, but it was a bright fish with a hint of rose down its flanks. The cheeks were starting to color, and when the guide finally released the steelhead, it bolted downriver as if nothing ever happened.
I was really getting cold; I asked the guide if we could start a fire somewhere along the bank. Once the guide returned from the lodge with a truck full of firewood, Joe kept fishing, and I spent the rest of the evening sitting by the fire. I was freezing, although I didn't want the guide to know I was stupid enough to travel to the Pacific Rim dressed only for a Scottish summer. Something told me, though; he had already figured it out.
Nights come early in British Columbia this late in the year. By the end of the first day, a toasty cabin, a potent cocktail, and a hot shower sounded wonderful. I had no idea what to expect the next day – in situations like this, there is very little you can do except take it day to day. The following morning, I heard a knock at the door and was met by one of the friendly staff with a hot coffee – I could get used to this. To my surprise, it looked as though it had been snowing all night. Several inches of fresh snow covered the ground. Luckily, not enough snow had fallen to blow out the river, but enough to raise it an inch or two. Since we knew, and had perfunctorily confirmed for ourselves, that the river held a tremendous number of fish but could use some freshwater, we looked upon the white dusting as a good omen – mine tampered with a bit of frostbite.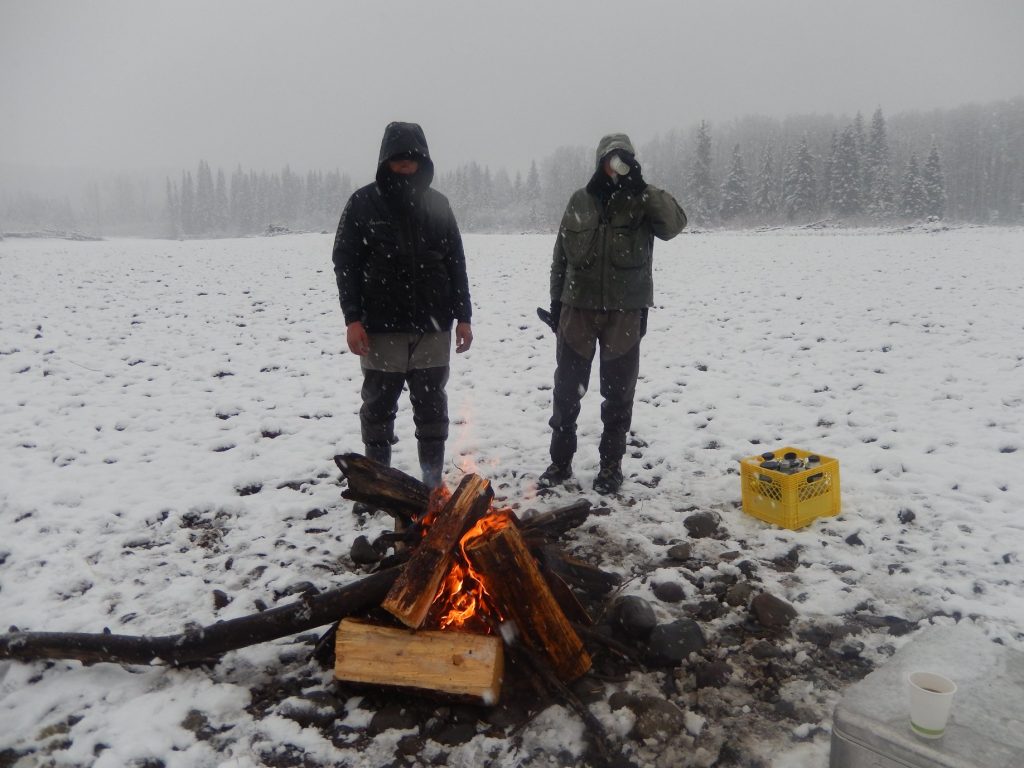 It continued to drizzle or snowed every night – that's Canadian manners for you. Only occasionally was the weather so uncouth as to continue snowing throughout the day. The river continued to rise several inches every day; the fishing was off the charts, and it didn't really matter where we fished. Some of the fishermen fished the Bulkley, others the Canyon, or floated the upper Skeena. A few of us rolled out of bed in the middle of the night. Loaded one of the trucks, hooked up one of the jet boats, and headed up to the Dean. Everyone was catching fish. It had become the norm – not the exception. The water ran clear, the guides were dialed in, and the rivers were loaded with fish. It was the first time I remember waking up in the morning, knowing that I was going to get into a few steelhead, possibly lots of steelhead. It was as close as any fisherman can come to Nirvana with his feet still firmly planted on Terra firma.
The first morning Joe and I fished the upper Morice – to be honest, I asked for it. I love the Morice. It's a beautiful river and, late in the season, depending on the water level, the fishing can be fantastic. I fished up top with Joe fifty or sixty yards below me when I hooked what I thought was a tree limb. The current ran fast, and there were fallen trees everywhere. Though I pulled with everything I had, I couldn't move what I had hooked but a few inches at a time. When I backed off on the pressure, the limb went right back to where it started from. After a few minutes of back and forth, I was actually trying to break the fly off. The guide finally came up and wanted to know what was going on. When I tried to explain, he just laughed and asked, "How do you know you don't have a fish on?" 
I scoffed and said something to the effect that if this was a fish, it had to be a monster. Still, I abandoned the idea of breaking my line and continued the back and forth for the next ten minutes or so. Finally, my tree limb started moving down the river –slowly. Then it occurred to me that, maybe, I might have hooked a big fish in the tail or the dorsal fin. I kept thinking if I had snagged the fish in one of the pectoral fins, I probably could have turned it, or at the very least aggravated it a little. The water was rather deep along the far bank, and the fish never came up. About that time, Joe started laughing and said, " There is no way you have the fish hooked in the mouth – he has to be snagged."
It was hard to argue with him. For all practical purposes, I still thought I might have tree limb in tow. Then, the fish decided he had had enough of the back and forth and bolted downstream. Twenty minutes later, the guide tailed my fish. Of course, the steelhead was hooked in the mouth. I had no idea what everyone was worried about. I graced Joe with a superior smile as though I had known all along. My expression might have even taken on a hint of a triumphant sneer when the guide looked back and announced, "This is the first legitimate eighteen to twenty-pound steelhead I've seen this year."
A few minutes later, we started a fire to sit around, warm up with hot coffee and shoot the breeze – Joe kept mumbling something about me taking his fish and explaining in great detail how my steelhead had clearly been headed his way. To hear Joe tell it, you'd end up believing he'd already made meaningful eye contact and set up a date with the fish before I so rudely butted in. In short, Joe only lasted half an hour sitting around the fire, even as he walked away he kept lecturing me about stealing his fish. He stood up, grabbed his rod, and made his way back downstream. I don't think he had made but three casts before he hooked into nice fish. I stayed near the fire and enjoyed watching Joe fight the fish – he really is an excellent spey fisherman. I have several friends that I consider world-class spey casters. People like Chris Anderson, Mark Lance, Jeff Bright, Greg Mau, among others, but Joe has one of the sweetest casts I have ever seen. When Joe is in the zone, his cast borders on artistic. Of course, he would never admit it.
I've tried throughout the years to duplicate his stroke with little or no avail. Of course, Joe lives in the Northeast, where he gets to practice his craft on any number of great rivers. As I mentioned above, I live in Mobile, and for all practical purposes, I could be the only spey fisherman in the great state of Alabama. On a good year, I might get to spend six or seven weeks chasseing steelhead and Atlantic salmon. Other than that, I spend the year with a single-handed fly rod in tow, mostly sight fishing for snook and tarpon and the occasional bonefish. At least a few times a year, you will find me staked out on a flat somewhere in Central America or the Florida Keys chasing permit.
Trying to transition from a single-handed fly rod to a spey rod and a running river is difficult at times. The transition from Atlantic salmon fishing to spey fishing the Pacific Northwest for steelhead is challenging on so many levels. Atlantic salmon fishing traditionally requires floating lines, wispy leaders, and tiny flies. On the other hand, winter steelhead fishing typically requires bulky running lines, ten feet or more of T-20, a stout leader, and a weighted fly with an uncanny resemblance to a saltwater jig. I don't think it's necessarily the constant cold that keeps the faint of heart away; it's the heavy gear that's required to dredge up a winter steelhead. On some level, you almost have to be a little touched to enjoy winter steelhead fishing. I love it! I have no idea what that says about my fellow companeros and me.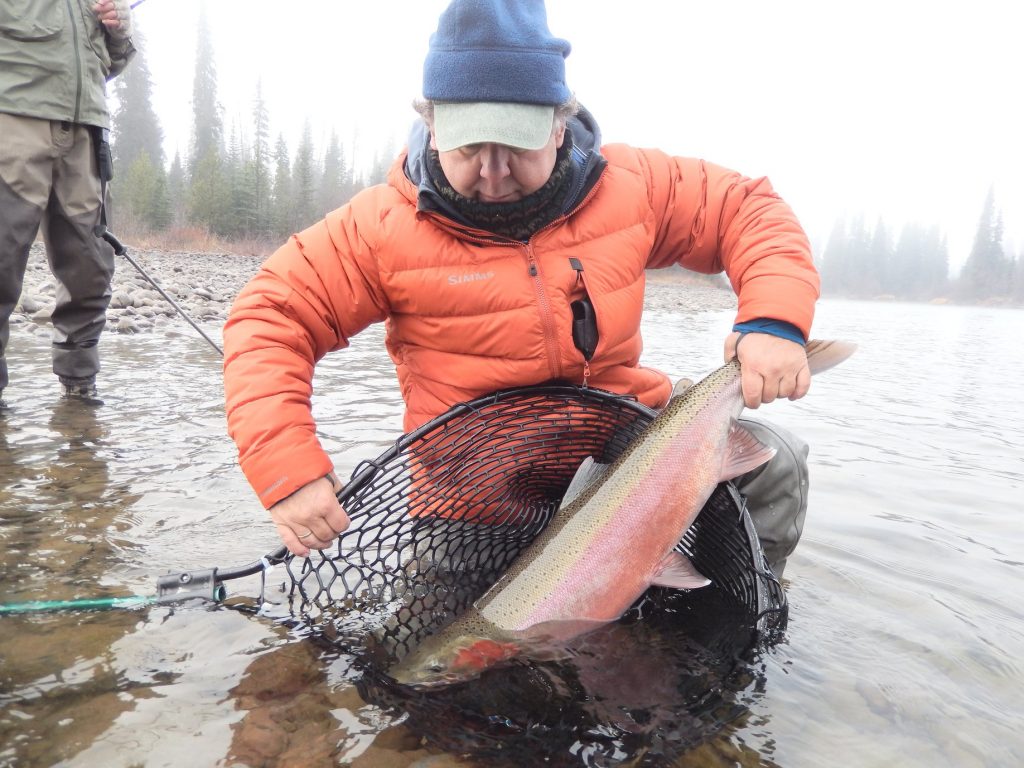 The days seemed to fly by, the fishing was outstanding, and everyone was catching fish. I'm not going to describe the number and size of fish we caught that week. I doubt you would believe me, but it was epic. It was by far the best week of steelhead fishing I have ever experienced. And judging by the enthusiasm around the lodge that week, everyone seemed to be having the time of their life.
I think deep down, most of the guests understood on some level that they might never experience a week like this again. Unfortunately, fishing is fishing, and it's never the same from year to year. At some level, that's the point in all of this. If we slew the fish every time we went fishing, we probably give it up and move on to something less expensive.      
It was snowing hard when we left the lodge that morning, so we knew it would probably be snowing harder up top. It was going to be a cold, wet day. Of course, with all the high-tech clothing stuffed in our waterproof travel bags and half a chord of firewood, one might assume we were headed for the far Artic, either that or some half-ass astronaut on our way to colonize Mars. Looking back, we might have been a little over prepared. Fortunately, we were in a rather large jet boat, and even though we had bags scattered everywhere, there was still plenty of room to move around. We didn't have to run a long way that day. It was the last day of the season, and the guides had to somehow trailer the boats at the end of the day in deep snow and drag them back to the lodge.
A half-hour later, the guide shut the engine down, slid the jet boat up on a gravel bar, and then threw the anchor up on the sandy beach. This was the first time I had ever fished this section of the river. It was beautiful in so many ways – I say that every time we fish the Morice. It's beginning to sound like a broken record. I know that reads like an overused cliché, but it sounds exponentially better than a broken down digital download. The truth is, the Morice is the kind of river a steelhead fishermen dreams about, especially late in the year. It's the quintessential steelhead river. At some point in life, every diehard steelhead fishermen should have the opportunity to fish the Morice in the fall. As with the pilgrimage to Mecca, it should be mandatory to visit the Morice in primetime at least once in your lifetime.
We anchored the jet boat at the bottom of a long run just above a blistering tailout that took a hard ninety-degree left turn at the bottom. The river took another hard right at the top around a massive logjam that had to be at least a hundred feet tall. It reminded me of the great wall of Troy, that is, assuming there was a great wall of Troy. If I remember correctly, Homer also gave us the story of Atlantis. I can only assume that Hollywood gave us Aquaman. If you hooked a big fish that decided to head upriver, there was little you could do. There was absolutely no way of getting around it without a boat or a helicopter, and even though we had a perfectly good boat anchored downstream, you're not allowed to fish out of it on the Morice.
There was a lot of water to cover, and then there was the obligatory campfire, lunch, and then an after lunch bull shit session that may or may not go on for hours. Of course, that depends on the number of fish you hooked or caught that morning. I could see us spending the entire day here. The last day of a fishing trip tends to take on a life of its own. If the week had gone as planned and you managed to catch a few fish, the last day is traditionally a time to shut it down and put the week in perspective. Sometimes fishermen become obsessed with catching another fish; they forget to slow down and appreciate the small things in life. On the other hand, if the fishing was on the poor side that week – then the last day can be somewhat stressful.
I always let Joe decide where he wants to start – the top or the bottom of the run. Personally I could care less. Joe was quiet for a moment – he was waiting to see if he could figure out where I wanted to start before making his decision. Finally after weighing all the variables, Joe decided to start at the bottom, and why not? It looked fishy, and I had no real idea what the water looked like up top, not to mention it was almost a quarter-mile to the top of the run. The landscape was breathtaking – the trees were covered with ice and snow and the river seemed to be rising. A mature Golden Eagle and several immature birds we circling the river in search of breakfast. As I made my way to the top, I kept thinking, what a great place to camp and spend the week fishing. Then it dawned on me; I was walking down the beach by myself in the middle of Grizzly Central.
At any moment, a six or seven hundred pound grizzly could quickly come crashing down out of the woods and chewed my ass off. You laugh, but it's happened to other fishermen. It's something no one wants to talk about it. Even though reality starts to set in at some point in time, and finally, you realize there's very little you can do about it anyway, so you go fishing and do your best not to think about it. I would be just another name on a long list of poor souls that were mauled in the Morice drainage. It happened to Gary Limage. Fortunately, Gary survived, even though he was servilely mauled and left for dead before one of the locals discovered him in a drainage ditch along the side of the road. Gary was one of the most experienced bush pilots on the planet. He spent his life camping and fishing throughout Alaska, most of it deep in grizzly country. No one knows exactly why it happened, or if his experience with bears saved his life. I can only assume it had to help.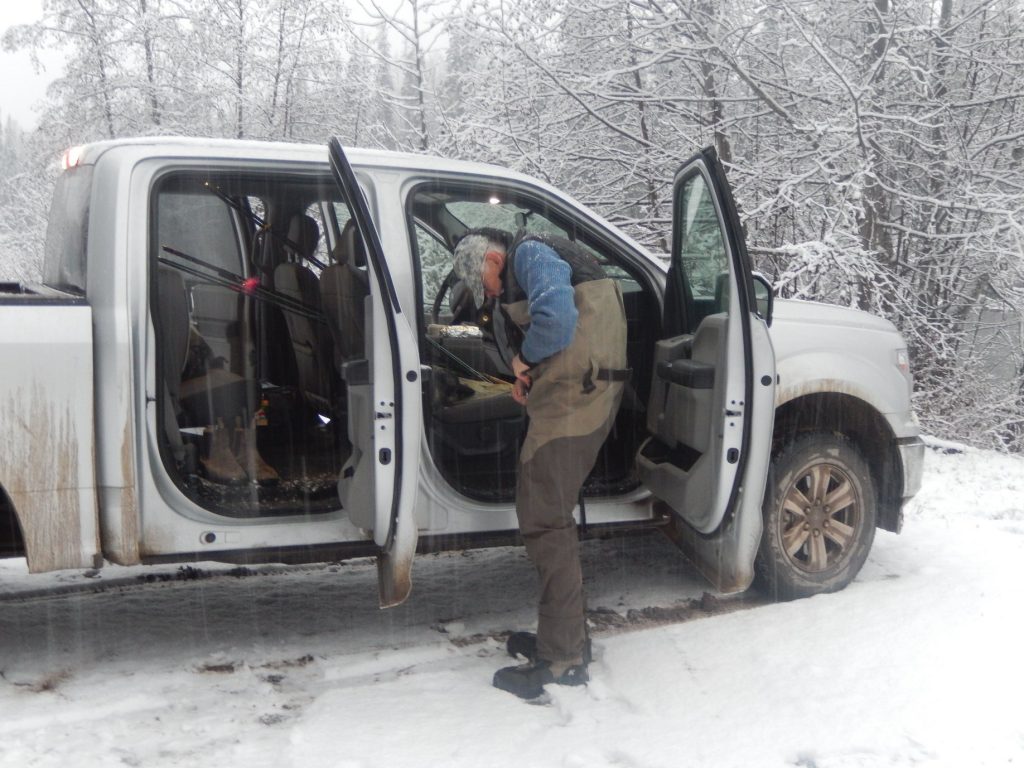 The guide was several hundred yards downriver, and the fact that he had a gun and several cans of bear repellent in the boat didn't do me any good. To make things worse, I was about to walk into the river with my back to the woods – oblivious to the world at hand. Of course, I never saw a grizzly bear that day, never heard one, but it didn't stop my imagination from going into overdrive. It's a little sobering when you finally come to terms with the fact that you are no longer the top predator in the ecosystem. In fact, you are relatively low on the totem pole as local species go.
Other than the occasional adrenalin spike here and there, it was incredibly peaceful. I made a few short cast along the bank in case there were any fish holding in the shallow water. I made swing after swing until I finally reached the logjam on the other shore. It's funny how your cast always seems better on the last day of a trip. I was dialed in and wasn't thinking about my cast or anything else really – I was doing my best to absorb the river and the surrounding forest. It's a sensory overload at times – it's almost spiritual at some level. I made one more cast towards the logjam and then threw in a few mends upriver to slow the swing down and get the fly as close to the bottom as possible. Then about ten or fifth teen feet downriver the tug, but this was no everyday tug. It almost took the spey rod out of my hands. It felt like a large fish, and I was about to scream out to Joe to net my fish as he went by. Then I heard Joe scream out, "Have you got a fish on?"
Then for some reason or the other I yelled back, "No, I am stuck on a rock – of course I have a fish on."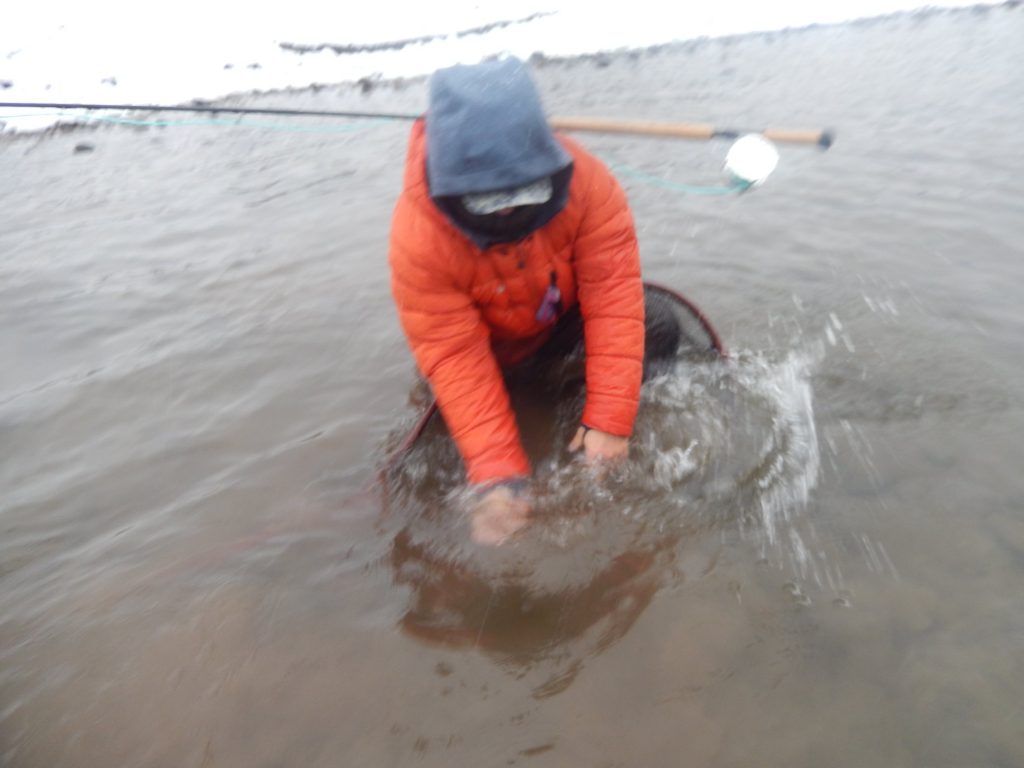 Joe started laughing for some reason and said something to the guide, and for some reason, the guide threw the net back into the boat and started my way as if he was kicking a tin can down the street without a care in the world. I had very little backing left on the reel when the guide finally realized I had a big fish on and not a rock. I was running down the river, tripping and falling on the small boulders, when the line fell slack. The fly pulled. It was as if someone reached in and cut my heart out with a spoon. It took what seemed like hours reeling all the slack line back in. The guide walked up and said something to the effect, "That was hot fish. I would have been here faster, but Joe told you were stuck on a rock." 
It was hard to complain – at this point, Joe and I had already had a great week, and according to the "Bear," this was nothing more than, "The lemon next to the pie."
In reality, it was a hot fish, just how big, that's hard to determine. The Morice is a fast river, and it's been my experience, like all gamefish, that steelhead instinctively knows how to use the current to their advantage. For a fish with a brain the size of a pea, they seem awful intelligent to me. I finally retrieved all my fly line and headed back where I began with the guide in tow. I made several more casts and hooked another fish in the same spot. Fifth teen minutes later, the guide tailed the fish; we took a few picks, released the bright steelhead, and watched it swim away. Several minutes later, I hooked another fish in the same spot, no telling how many fish were stacked up next to the logjam. I landed the second fish virtually in the same manner as I did the previous fish. Ten or fifth teen minutes later, I hooked a screaming locomotive, but this one went up stream, and no matter how much pressure I put on the fish, I couldn't slow him down. I was deep into my backing, and he still wouldn't slow down. All the guide could say was, "Damn, that's a huge fish."  
By this time, I had begun to use a few tarpon tricks to no avail. I gave the fish some down and dirty to the right and then some down and dirty to the left in hopes of making him change direction or at least jump a few times to expend some energy. The truth is the fish was too far upriver to have any meaningful effect on it. Then I begged the guide to go down and get the boat and run me around the logjam. He kept mumbling something about not being able to fish out of the boat on the Morice. If he got caught, he would lose his guide's license or something to that effect. Then just like the fist steelhead, my fly line fell slack. Then the guide said something about switching places with my buddy and let him in on the action. I said, "Your kidding, right – I don't know that guy. I just met him a few days ago." 
Then I informed him, "You do know this is a gift from the gods, and if I walk away, I may never catch another steelhead. And it will all be your fault."
In the end, I went down a told Joe to switch places. I even told him what fly to use and where to fish. I made several casts where Joe had initially been fishing, but my mojo was gone. I cut my fly off and reeled in my line. At some level, it was probably better I didn't hook another steelhead in Joe's spot. Joe would have never let me live it down. To make a long story short, Joe fished in the same place I did with the same fly for over an hour and never got so much as a tug. There is a lesson to be learned here – never, never upset the gods. Take what they give you and be grateful if not humble.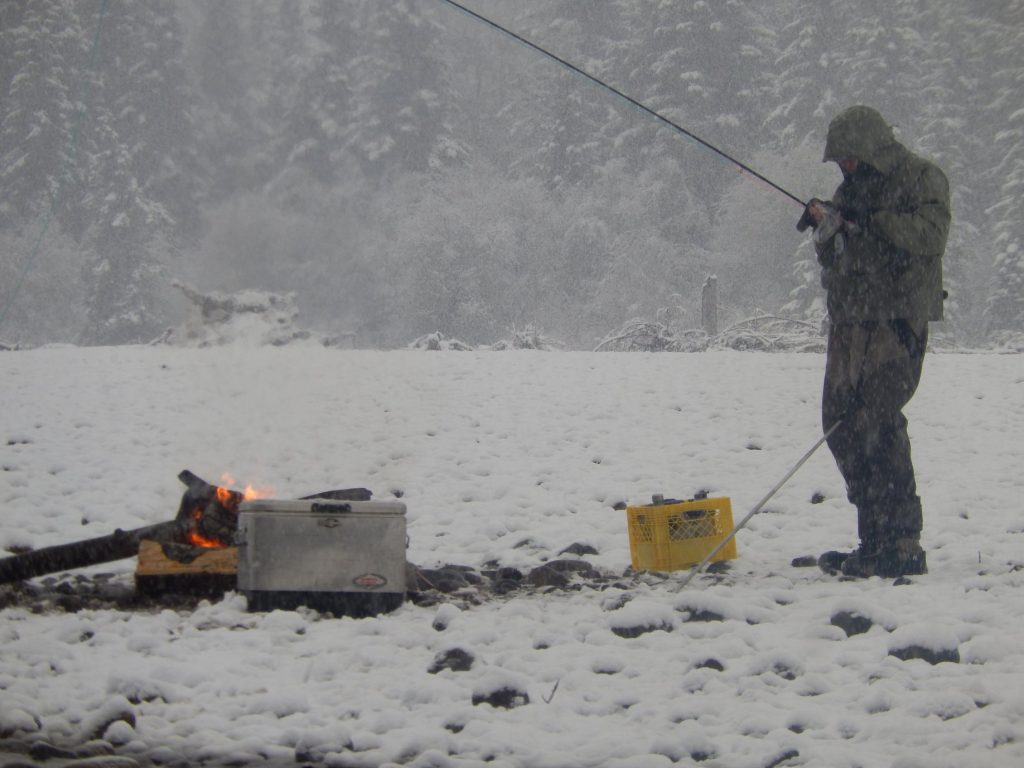 The lodge was rocking that night – everyone had a wonderful trip. Give or take one or two people that, for some reason or the other, couldn't seem to let their hair hang down. If you couldn't get excited after the previous week of fishing, then there is little hope for you. Then again, it could have been caused by nothing more than the lack of quality bourbon.
Is it any wonder, then, that I am addicted to fly fishing for steelhead and Atlantic salmon even though I have to travel far, crossing over lots of water full of different types of fish, to get to them? It's the occasional win that keeps a gambler hooked. It has the same effect on fishermen. It's the smell of the campfire, the bantering camaraderie; it's seeing wild places and being reminded that although we have certainly hurt the planet, it's not too late to save and restore what we have left. It's too precious to squander!
« Previous Post
---