This article was first published in The Contemporary Sportsman Magazine.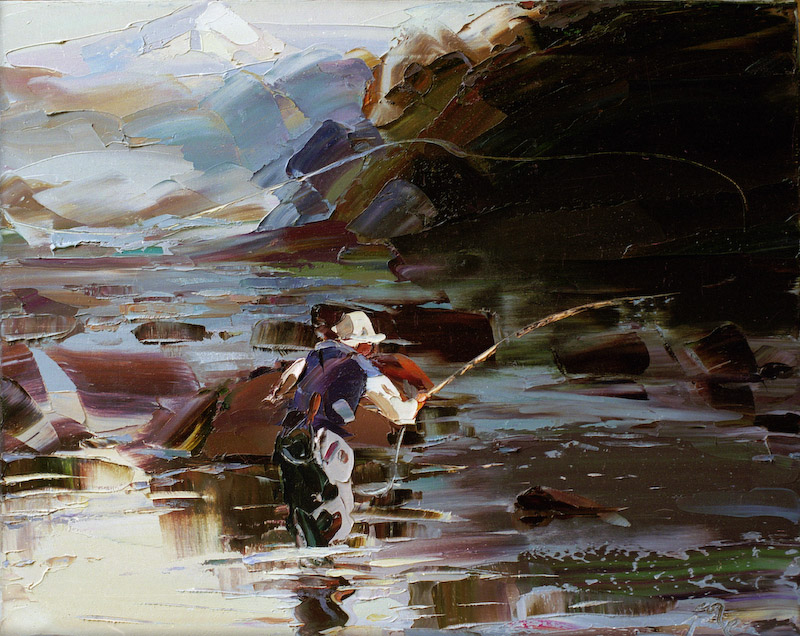 On a recent fly fishing jaunt through Patagonia, we had the good fortune to overnight in San Martin de los Andes, where we stayed at the Hotel La Cheminée. Almost immediately, as we entered the lobby, we were overwhelmed by the charm and ambiance of the hotel, especially the artwork that lined the walls of the restaurant and bar. In fact, several of us delayed checking in and gathered around one painting in particular. It was a small, 13″ by 24″ oil painting, depicting a fly fisherman waist deep in a river. He is apparently struggling to stay upright while fighting an obviously enormous fish.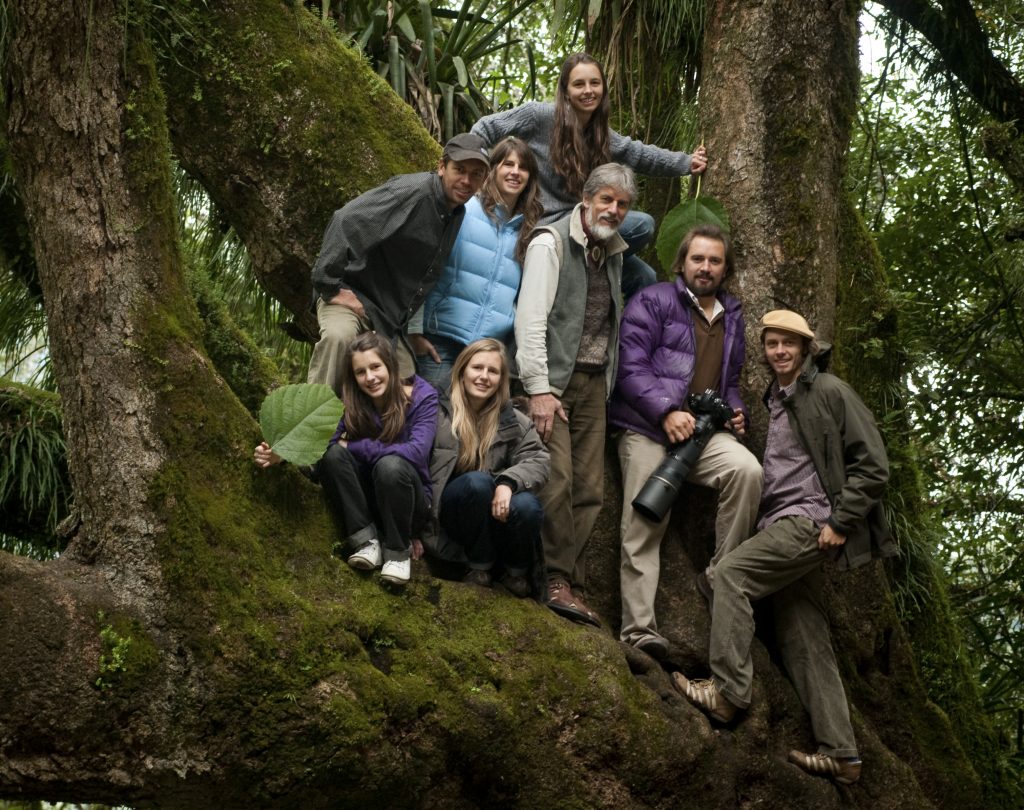 A traveling band of fishermen, we are not usually the type to check out the décor before we check into our rooms. However, this painting had all the charm and intrigue inherent in impressionist paintings mixed with a subject matter very dear to our hearts. The intrigue of impressionist art stems from the fact that the viewer seamlessly fills in the detail that is ostensibly lacking on the canvas. Impressionist paintings appear to become more detailed the further back one views them. In the case of these paintings, this experience was doubly enhanced since they appear to have been done entirely without the use of a brush. The painting we had all instantly fallen in love with was entitled "Struggle".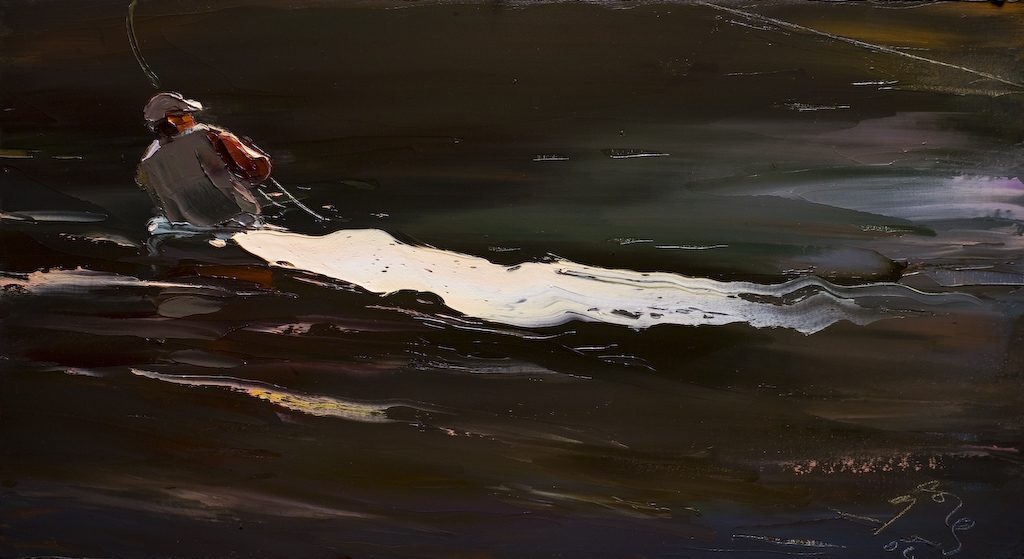 When we finally did check in, we immediately asked the manager who the painter of the picture was and where he lived. The manager, who turned out to be the owner of the Hotel La Cheminée, was more than happy to tell us about Georg. In fact, it was difficult to get him to stop. Based on his enthusiasm, it wasn't much of a surprise to find out that they were actually good friends. We were excited to learn that Georg lived just up the street and that the hotel owner would be happy to arrange a meeting with him. As so often happens when traveling, an unusual opportunity presented itself. We were about to meet a national hero, arguably the most famous and most celebrated artist in Patagonia today.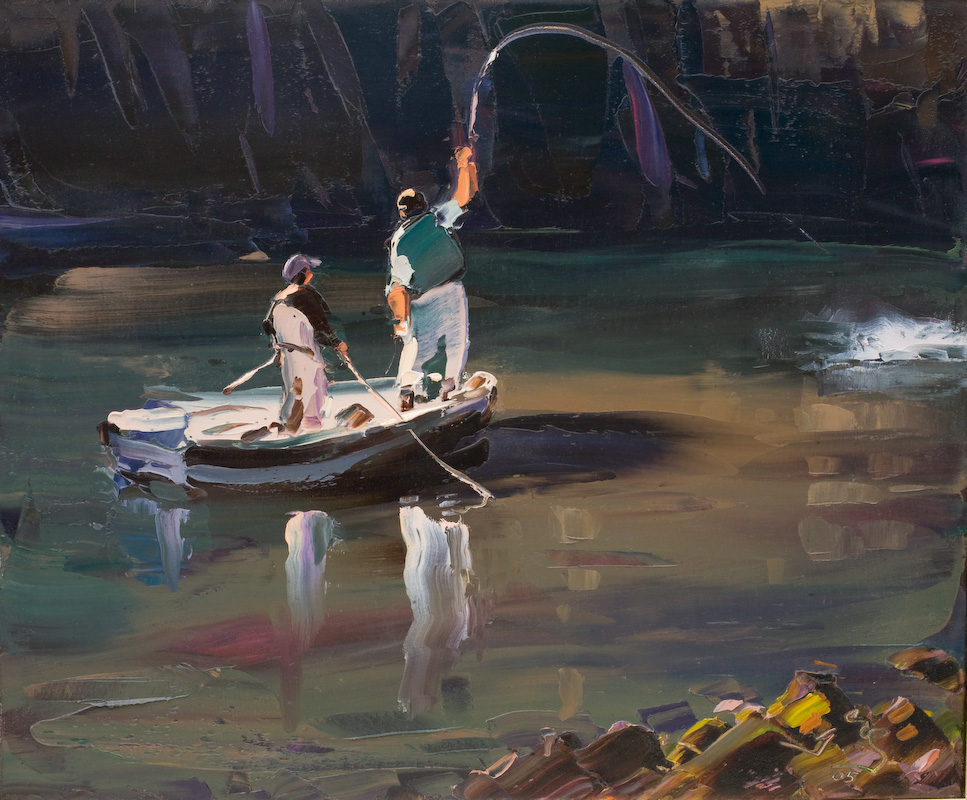 When the day of our meeting arrived, I must admit I was actually a little nervous. Even though I was unaware of Georg's stature in the art world at the time, I was still somewhat intimidated about interviewing a successful professional artist; I had heard tell they could be a little eccentric at times. As we pulled up in the driveway, we could see Georg working in the yard tending to his plants. Georg is now in his mid-sixties but has the appearance and exuberance of a much younger man. Upon shaking hands and exchanging greetings, it became evident that we were dealing with a very down to earth, friendly guy, so fortunately the nervousness disappeared.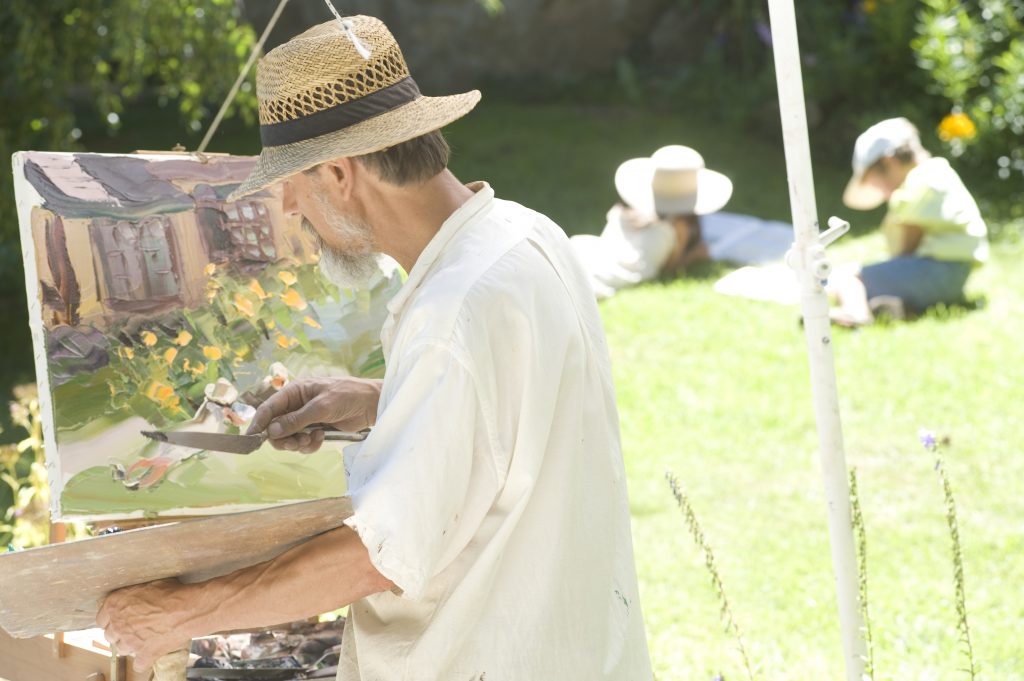 When we were led into Georg's studio, at first we were amazed how little it looked like what we would have imagined an artist studio to look like. It was very clean, well kept, even a little technical. The next surprise was that Georg wasn't a native Patagonian. He was born in Bludenz, Austria in 1946. After the war, the Miciu family had moved to Argentina when he was just three. Intriguingly, Georg's first love was music but in his late teens he gave up his music career to study art under the tutelage of his father, Konstantin. The elder Miciu held a diploma in fine arts from Vienna and bequeathed to Georg the simplicity and strength of Russian Impressionism. Today, Georg's son Emmaus is following in his father's footsteps. This comprises three generations in the arts.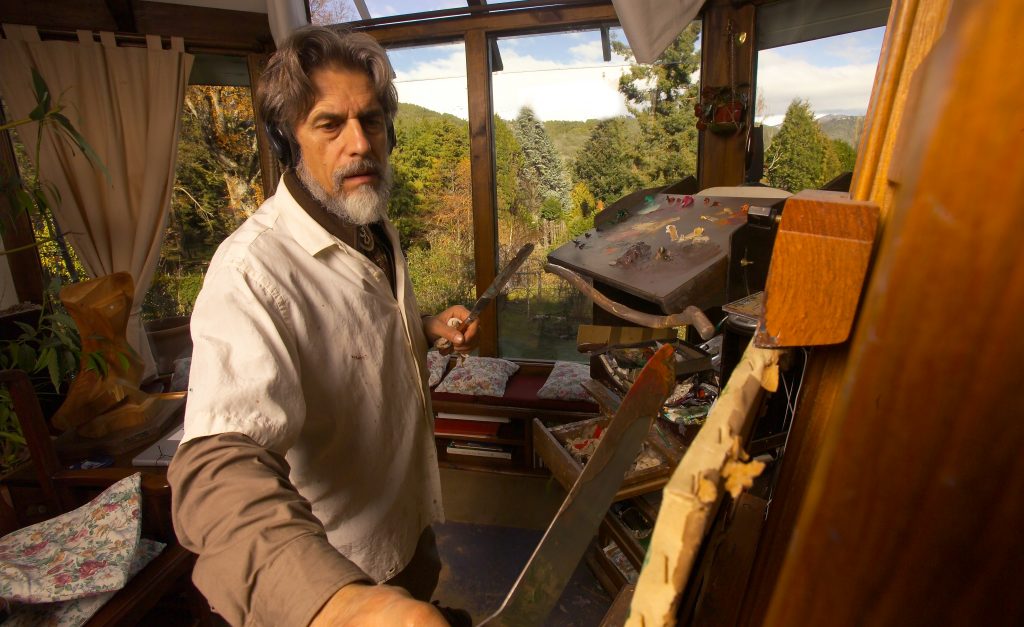 Looking around the studio at Georg's work, it became obvious that "Struggle" was not an exception but the norm. Georg is one of those magicians who, with only paint and a spatula, can conjure up the illusion of detail as well as the spirit of a place. To keep his art true and authentic, Georg still does about half of his painting outdoors, staying true to his no nonsense assertion that "naturalness comes exclusively from what is natural". Having dabbled in painting a little myself, I generally found it to be a rather frustrating experience. Thus, I spent some time talking shop with Georg. His mastery of paint, light, illusion, and the spatula (palette knife) were absolutely amazing to me. Of course, he tells me he's had decades of practice.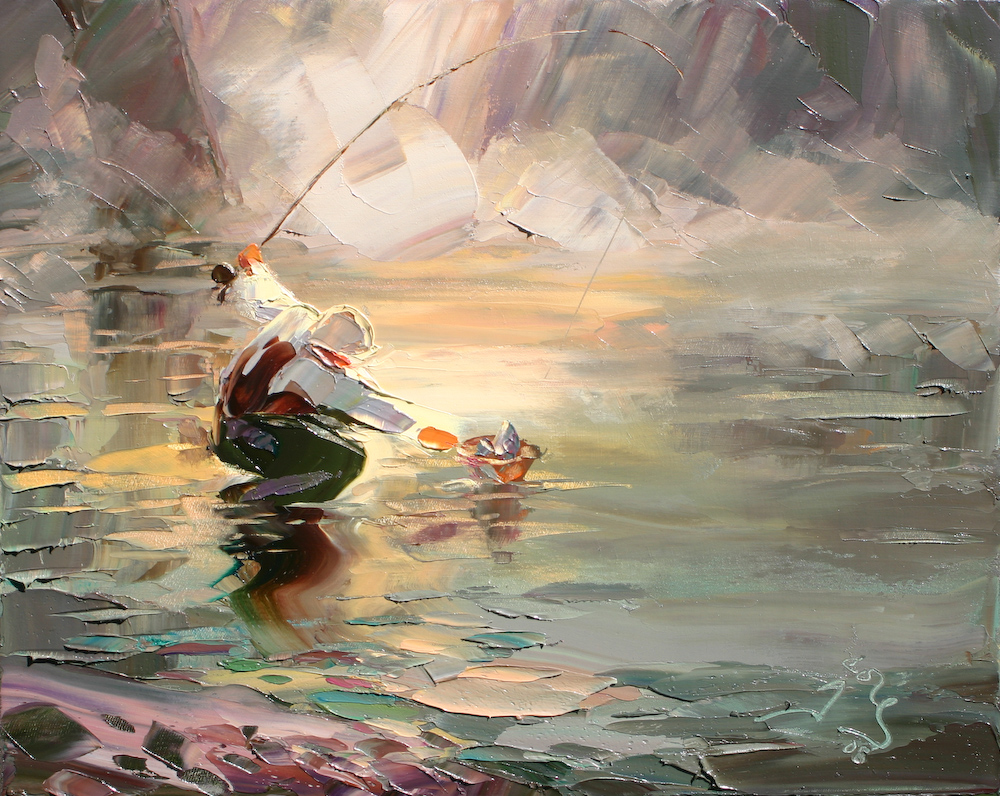 While I learned mainly that I would never be a world-class painter from our discussion. I have at least this one consolation: although Georg loves to paint fly fishing adventure, he admits freely to not being much of a fisherman himself. He feels strongly, however, that the love of nature is something that fly fishermen and artists have in common. Georg believes that fly fishermen are attracted to beauty and harmony more than any other type of sportsmen and that this is the reason so many of us from all over the world are drawn to his paintings. I certainly have to agree, if it weren't for nature, harmony and beauty, there would be no point in learning the intricate (and initially frustrating) art of fly casting. If it were merely about the catch, we would be better served bait fishing.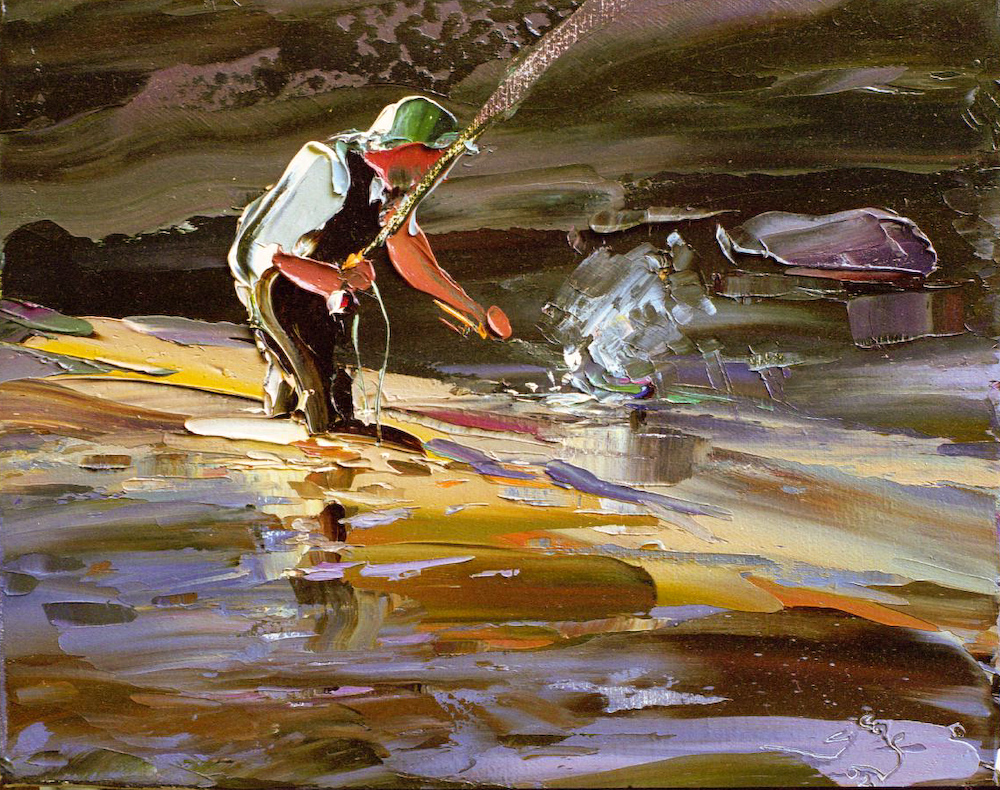 Like all artists, Georg has had to pay his dues. In his youth, he traveled to Paris and met with the inevitable cruel commentary and repeated rejection. Fortunately, he did not let it affect his art. One critic handed him back his portfolio and pronounced it a pitiful waste of talent because it was too beautiful and, therefore, not true enough to real life. It appears, however, that Patagonians thank the French to keep their gritty, ugly art to themselves, preferring Georg's amazing evocations of their beautiful, rugged, and wind-swept country. Currently, Georg and his representative, Jorge Bonzano, are in the process of building a spectacular museum exclusively for his art.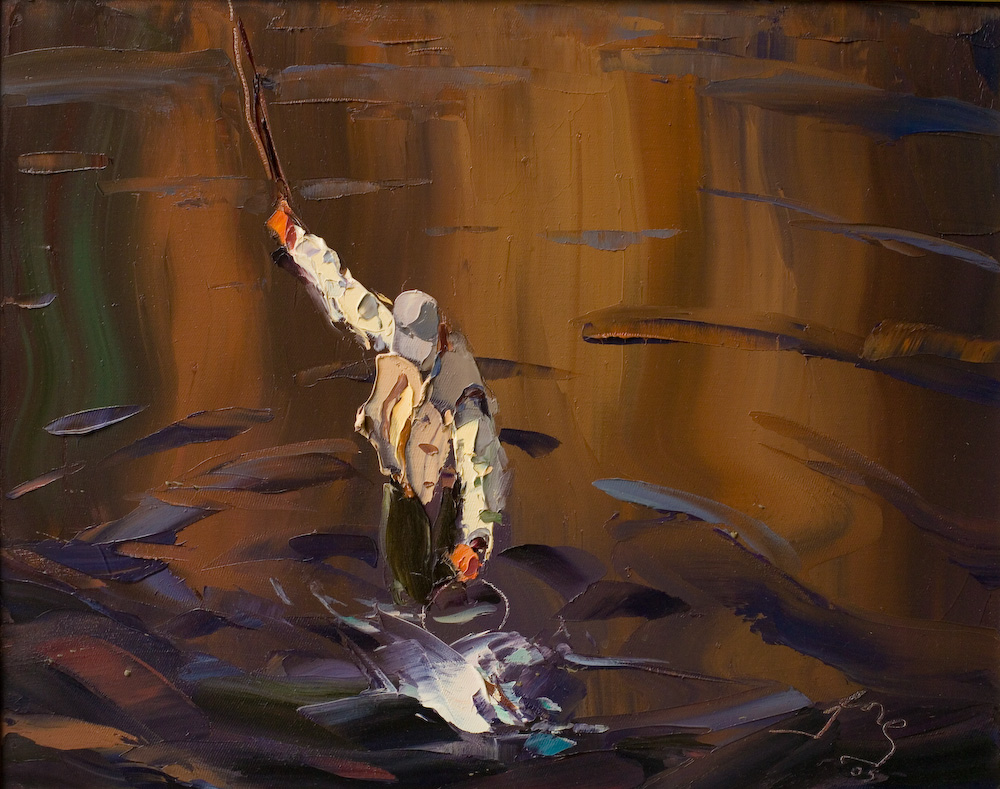 Precisely because they celebrate beauty and reflect the authenticity of a place and time, it's easy to fall in love with Georg's paintings. I am a fly fisherman first and foremost. I am not by any stretch of the imagination an art critic or even someone who occasionally writes about art. I don't have the vernacular for it, and I don't pretend to, but I do appreciate good art. Georg's paintings evoke the subtle philosophical meanings that most fly fisherman associate with their sport. It is not my intention therefore, to repeat any of the extensive material already written about Georg. Also, I do not wish to bore the reader with my own interpretation of his art. Rather, I would like to celebrate this opportunity to share this wonderful visual find with our readers. I would encourage them to seek out their own artistic treasures and interesting characters. Perhaps they could even share them with us on our blog.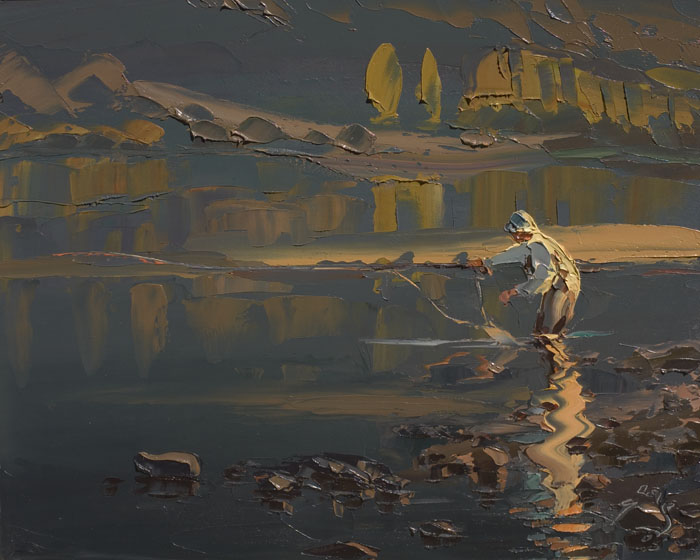 As with most things, Georg's art is enhanced by the personality of the artist. Meeting him and his large family, talking shop with him, and learning that he signs his paintings with a nail (and is wily enough to sell the nails once crusted over with paint) was absolutely worth the time off the water it required. In this article we show some of our favorite paintings and we sincerely thank Georg for making them available to us. However, if you, the reader, ever get the opportunity to visit Georg's studio and/or museum, we highly recommend it. There is something palpable and visceral about standing up close and experiencing the thick coating of paint on canvas and then standing back and watching it meld into smooth, coherent oneness.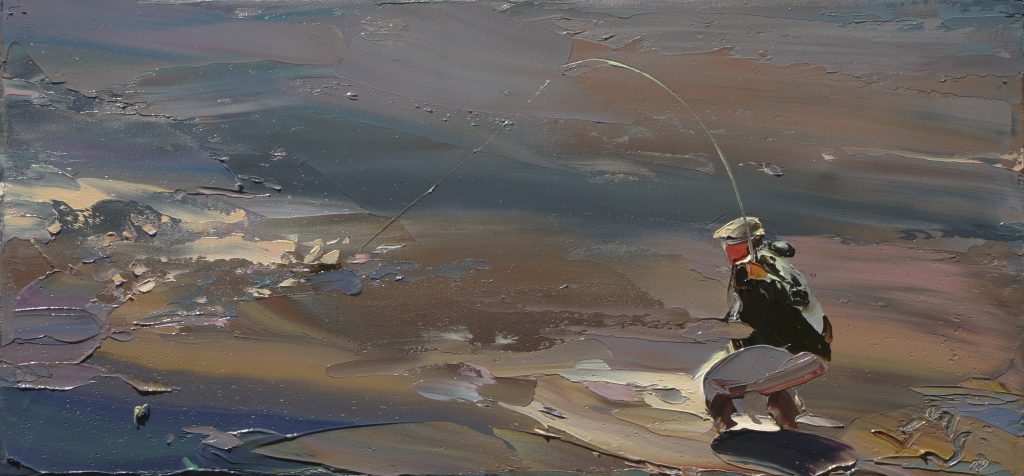 « Previous Post
---