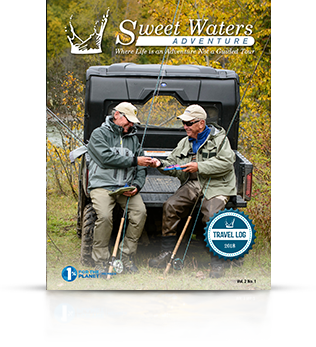 Travel Planning: Your guide to living life outdoors to it's fullest.
It's with unbridled excitement and not just a little bit of pride that we welcome you to Sweet Waters Adventure Travel Log, a quarterly travel magazine. This is your one stop place for travel planning for the most amazing adventures for your friends, family, or for an adventure on your own. Flip through its easy-to-navigate pages where you'll discover stories written by experts in their fields and photography by award-winning pros featuring the lodges and outfitters that Sweet Waters Adventure is proud to represent. Once you've explored its rich contents, discovered its fresh approach to layout, and delved into its exciting articles and stunning photos, you'll be hooked.
In SWA Travel Log, you'll discover everything you'll need to plan the perfect travel adventure, or to simply dream about the getaway of a lifetime. Chock full of helpful and timely information and adventure waiting to happen – SWA Travel Log contains everything from basic travel tips from the experts to valuable fly fishing techniques from some of the best anglers on the planet.