For many years one of Latin America's most exciting game fish was kept a secret in its heartland. For over a decade now, the Golden Dorado or 'River Tiger'as it is affectionately known, has been discovered and has quickly become a one-of-a-kind fly-fishing experience.
Pirá Lodge is in Northern Argentina's Iberá Marshlands and is protected by a natural preserve more than twice the size of the Florida Everglades. Fishing for Golden Dorado, one of the most voracious and beautiful species to swim the planet, takes place aboard a fleet of 16-foot Hell's Bay flats skiffs. You'll dodge Caymans and catch freshwater Dorado in the 5-to 20- pound class on everything from dry flies to stripped streamers. When your fishing day comes to an end, decompress and take in a traditional asado at one of the finest lodges fishing has to offer. However, it is the electric take and dazzling fight of the Dorado that bring fishermen back year after year!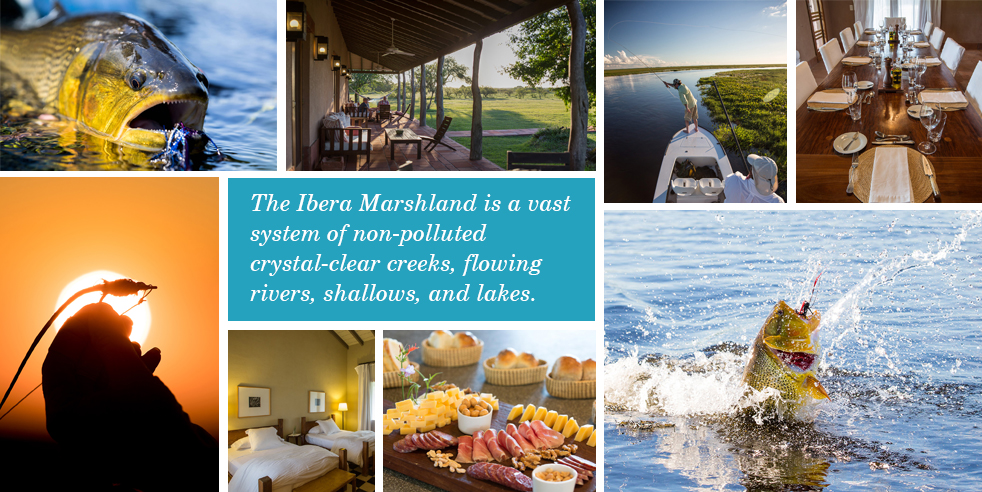 Why Choose a Pirá Lodge?
Pira Lodge was the first, and the most detail-oriented fishing lodge specifically built for one of the most exciting gamefish in the world: the freshwater Dorado. The lodge is uniquely positioned and is very comfortable with direct access to the Iberá Marshlands – nearly three million acres of mostly unexplored marshland, including creeks, rivers, lagoons, and freshwater flats, all teeming with fantastic gamefish.
The system provides crystal clear water throughout the entire fishery throughout the season. It's sight fishing at its best. The opportunities to sight fish for Golden Dorado can be the most exciting thing you have ever done with a fly rod in your hands. There are unlimited opportunities to commune with nature and unique non-angling activities in a tropical paradise such as horseback riding, a sparkling swimming pool, and bird watching. With a spectacular abundance of flora and fauna, it makes for a naturalist and fisherman's dream destination. With a good pair of binoculars, a fisherman can see over 350 bird species though out their trip. Why not make a vacation within a vacation.
Pira Lodge provides friendly bilingual guides. All with working knowledge about the Dorado and his habits. They offer years of experience and boating in this vast natural reservoir. Pira Lodge is the only freshwater Dorado destination in South America with state of the art Hell's Bay flats skiffs. We do that so we can shuttle anglers quickly and safely in the most remote areas of the fishery. There are several transportation options for Pira Lodge. Arrive commercially or via a private charter directly to our private landing strip at the lodge.
The Lodge
Built with exquisite Corrientes style and pride, Pirá Lodge enjoys a spectacular panoramic view of the vast wetlands. It accommodates up to 10 guests in five deluxe rooms, each with a private entrance, private bath, two double beds, ceiling fans, and air conditioning. A separate building, attached by covered walkways and open-air patios, accommodates the spacious living room, bar, and dining room areas—each with tall doors that open to the wide veranda. Pirá Lodge was designed by award-winning architects to respect traditional regional elegance—offering all of the comforts and luxuries of a contemporary hotel. Relax and enjoy a cocktail at any hour, and cool off in the outdoor swimming pool after a rewarding day of fishing.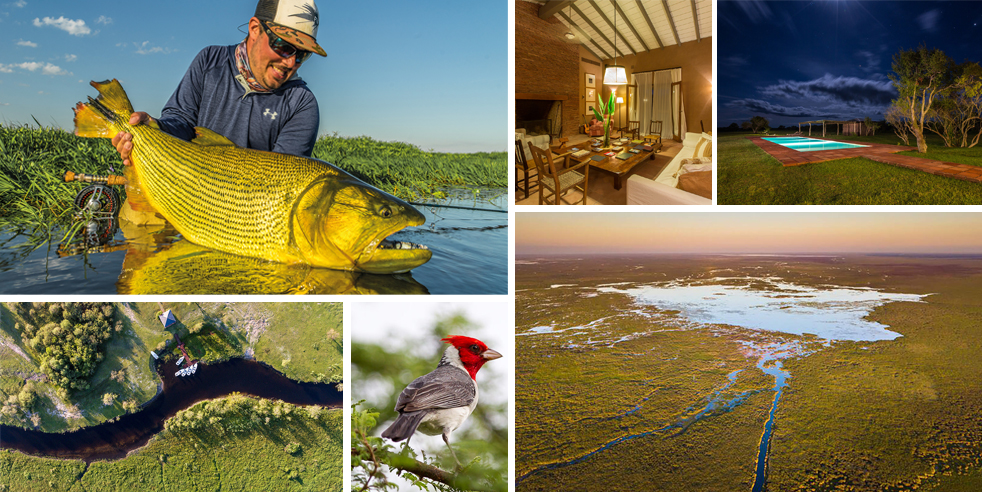 Food and Drink
At Nervous Waters, our kitchens come to life through the use of fresh and regionally representative meats and produce. By combining these elements, we create delicious flavors and varied textures that harbor hidden stories and package traditions on each plate.
A top-notch team of experienced national and international chefs, trained in both classic and avant-garde culinary techniques, execute our food. With an artisan's touch, chefs prepare every dish by scratch at a minute's notice. Also, our inspired lunch and dinner menus are paired with some of Argentina's—and the world's—best wines, Bodega Catena Zapata.
In addition to our focus on fresh food with organic origins, we also celebrate our Argentine heritage with a wine partnership that brings genuinely world-class wines to our lodges. We feel that the food we present and the wines we serve should mirror the sporting opportunities we offer—and be the very best available. While our vast country offers many options for traditional activities such as riding, hunting, eating tasty meats, and drinking excellent wines, we have chosen to blend fine food and outdoor activity at an even higher level. We feel our offerings from Bodega Catena Zapata blend perfectly into our harmonious niche in the sporting environment. Boasting many accolades from the wine community at large, a Bodega Catena Zapata wine recently received a "number four in the world" icon ranking from Wine Advocate. These are truly great wines that compete on the world stage, and in addition to enjoying your sporting holiday and our excellent menus, we also hope you will also take note of our wines. They hold a special place in our culture, and we are proud to serve them to you. Our Northern Argentina kitchens specialize in diverse dishes that pair prime cuts of local meats with the freshest fruits and vegetables. Beyond traditional asados, salads and sides, enjoy exotic appetizers such as yacaré meat, savory cheeses, and homemade loaves of bread such as our classic chipá rolls. Desserts tantalize guests with multiple textures and flavors designed to provide an unforgettably delicious final touch.
The lodge is located in the Corrientes Province, Northeast Argentina, in the middle of the Ibera Marshlands, within 1,300,000 hectares of Natural Reserve. This area is twice the size of the Florida Everglades.