Join Sweet Waters Adventure on a hosted steelhead trip of a lifetime to the Southern Oregon coast. This year the journey starts in early February. It consists of seven nights and six days guided fishing for $2950. There are five spots left. There is no other place Sweet Waters Adventure would rather be than winter Steelheading on the Southern Oregon Coast. Why? Oregon's coastal rivers rise and fall with winter rains, big, wild steelhead push into emerald waters, seeking refuge in glassy tail-outs and choppy riffles along the Oregon Coast.

If you like big water, jet boats, dramatic scenery, and chrome fish, then you will absolutely love the Rogue. We love it for all those reasons. You will have access to the lower 50 miles of river, including the ability to run up into the Wild and Scenic section and the lower reaches of the Illinois River via jet boats. From there to the mouth at Gold Beach, water types transform from channelized ledge rock to large sweeping gravel bars.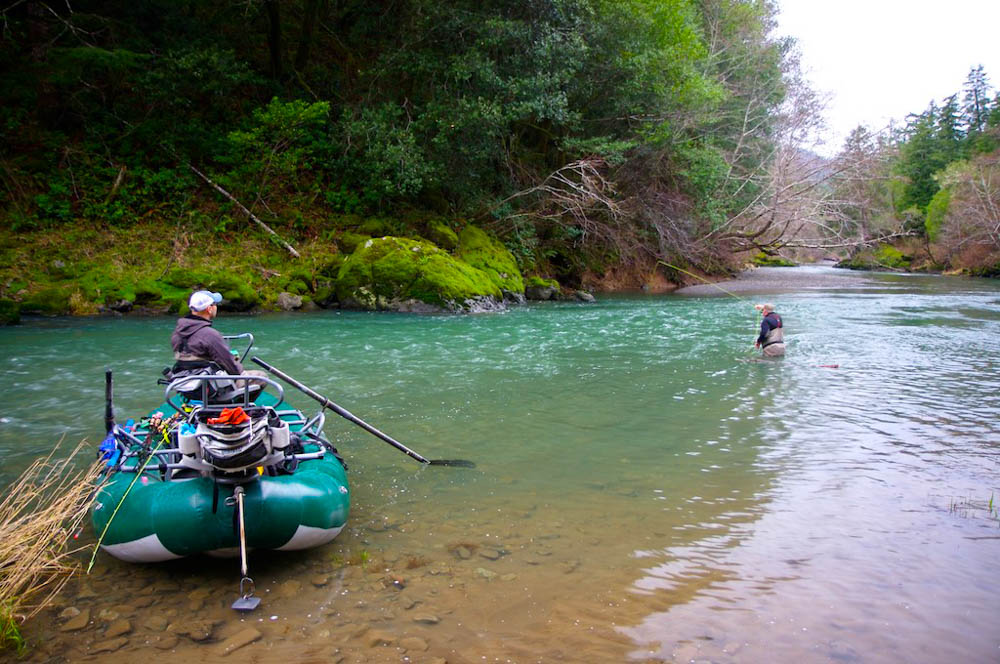 We like to think of it as a super highway for fish, giving them access to several large and dozens of smaller tributaries. Thousands of steelhead and salmon ascend the Lower Rogue every year. We will be targeting winter steelhead on the Lower Rogue
The Rouge River is our primary goal but, trying to predict the weather in January along the Oregon coast is always unpredictable at best. There are seven smaller freestone rivers within 30 minutes of the house that clean up very quickly. Especially the Elk River. The chances of getting blown out completely are slim. We can always find some productive water to fish.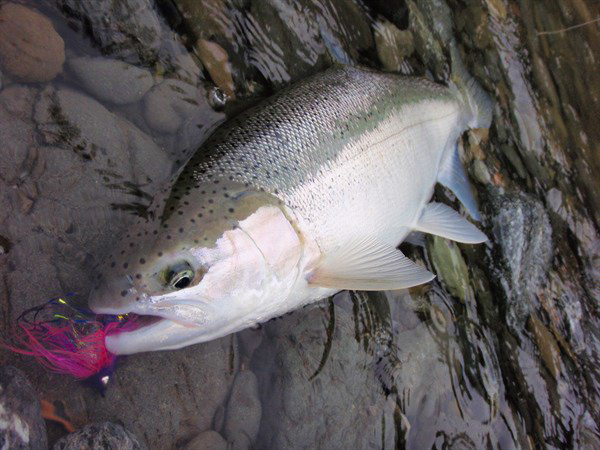 The Rogue River meets the Pacific Ocean at Gold Beach.
From there we will have access to the lower 40 miles of the Rogue River via jet boat.  Every steelhead that travels up the Rogue River passes through this lower stretch. Our prime time to intercept these fish is late January and early February. The Lower Rogue isn't the only game in town. There are several other steelhead rivers within an hour's drive of Gold Beach. Depending on the fish counts you will have an opportunity to fish some of the more intimate steelhead rivers along the Southern Oregon Coast. Some of these rivers are beautiful and can have excellent fishing in late January.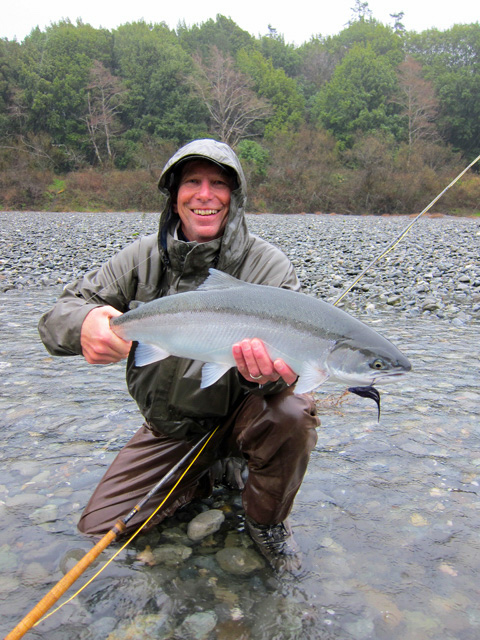 A major tributary of the Rogue, the Applegate River offers world-class steelheading in an intimate, exclusive setting. The Applegate as it flows through Applegate Valley is reminiscent of many Montana trout streams. It has clear water and a classic riffle-run-pool character. It is also mostly private, and regulations bar fishing from watercraft. Via arrangements with local landowners, Sweet Waters Adventure, offers exclusive access to many miles of this fishery by boat and on foot.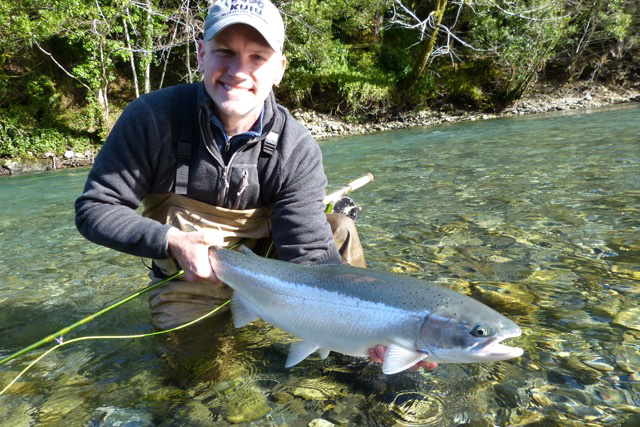 When most fishermen hear the words "winter steelhead fishing" they cringe and roll their eyes or pretend they were not listening to you in the first place. They picture rivers covered in ice and snow piled up on the banks six feet deep. That's fair if you are fishing the Great Lakes, which I have done and regretted it every time, but this is Southern Oregon. Mainly it's a tropical rain forest, and the critical word is rain.
Mainly we are fishing over tidal fish.Most days the temperatures in January and February run somewhere in the mid-fifties and occasionally in the mid to upper forties. We are fishing within fifty miles of the California border. It's almost wine country. The best fishing happens within a half a mile or so from where the rivers run into the Pacific. Mainly we are fishing over tidal fish. The steelhead are fresh from the sea and full of piss and vinegar. The average fish is ten to eleven pounds with many fish in the fourteen to sixteen pounds, and yes every once in a while someone will hook one even more significant. Though it's midwinter inland, it's odd, but along the coast, it's a bright green rainforest.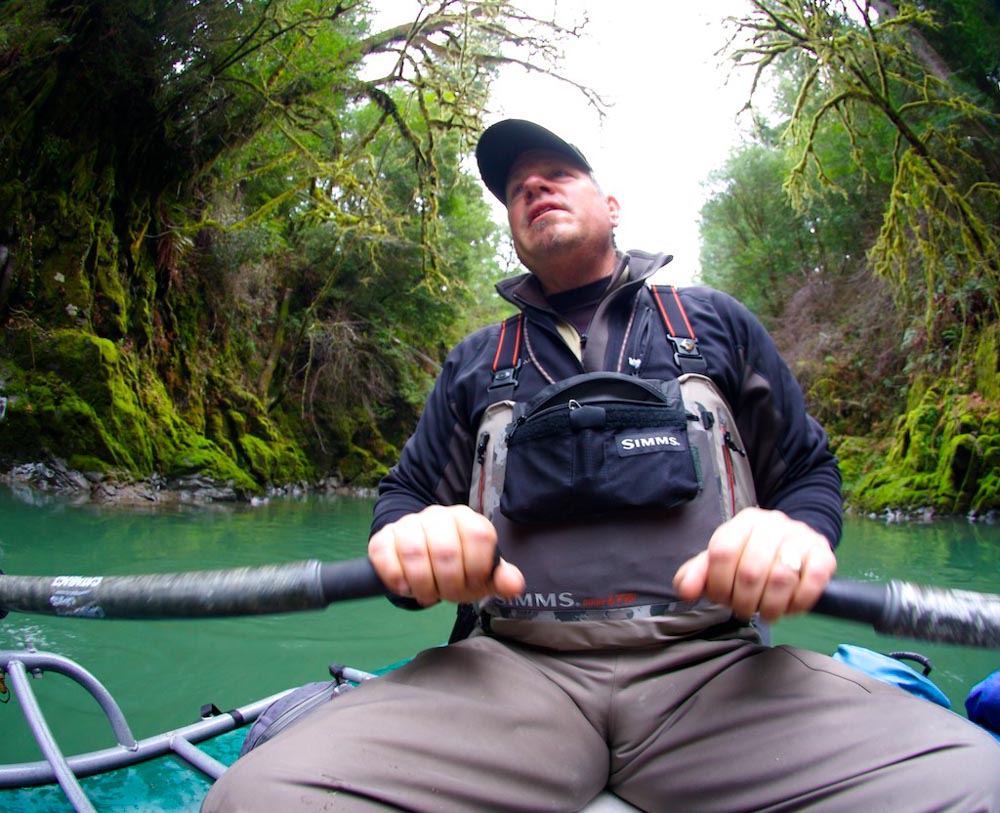 Sweet Waters Adventure uses the best guides in the business. Guides like Geno, who have been living and guiding along the coast of Southern Oregon for the last thirties years. Gino loves all of our greater and lesser salmonid friends, but his real passion is for steelhead. Gino's guide schedule is built around steelhead guiding, and he manages to do it for at least nine months of the year. All of our guides live along the coast and are intimately involved in the conservation of the watershed. They would rather be on the water than anywhere else. 
« Previous Post
---